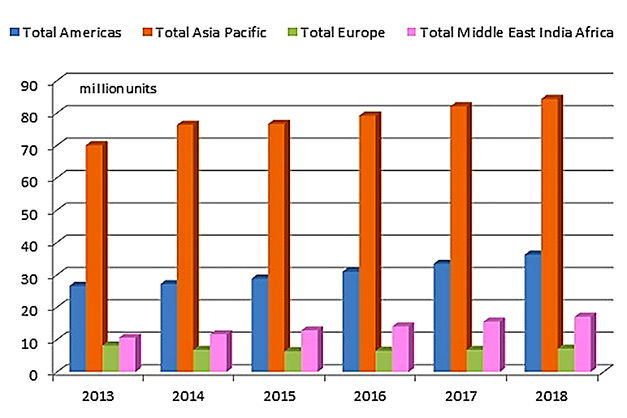 UK: Although there were large variations across regions and countries, global air conditioning sales grew by 7% to $97.7bn last year.
According to latest figures from BSRIA, the Asia Pacific region accounted for most of the increase,  maintaining its position as the largest world market. Sales of $56.5bn in 2014 increased its leading position to 58% of the global market – up from 56% in 2013.
China and Japan represented 83% of the market by value. VRF and ducted splits drove split system sales in China last year but more traditional single wall-mount type and small floor standing sales did not witness the same fast growth.
Myanmar, Vietnam, China, Hong Kong and Malaysia all showed double digit growth rates but Australia, Thailand and Indonesia experienced slight declines.
Americas
The Americas witnessed a growth of 7% last year. The biggest contributors to this growth were the US market by 6%, followed by Brazil with 28%. Other significant countries in the region, including Argentina, Canada and Mexico, all contracted in 2014. Years of government spending in Mexico came to an end resulting in the total AC market dipping by 9% in 2014. This was mainly felt in the commercial sector due to the low construction activity.
Europe
Despite good performance in the UK and Germany, European sales were offset by declines in Russia, Turkey, Italy and Spain. Overall sales declined 5% in value to an estimated $11.2bn.
The biggest growth was seen in the UK market, reaching US$1bn – a rise of 22% over 2013. This is said to have been buoyed by commercial construction, particularly in the London area, and the demand for both central plant and VRF. The German market grew by 2%, reaching $1.2bn. 
Italy, Europe's biggest AC market, declined by 14% and Russia, the second biggest market, declined by 22%. The absence of large scale projects in Italy with the exception of the Expo in Milan and the mild temperatures in 2014 are said to have had a negative effect on chiller and DX markets.
MEIA
The Middle East, India and Africa (MEIA) region showed the largest growth, albeit from a smaller base than Asia Pacific region in 2014, growing by 9% in value terms to $9.2bn.
India, the biggest AC market in the region, was the major contributor to this growth, reaching $2.2bn from $1.8bn in 2013. Amongst the other significant growing countries were Nigeria, Qatar, South Africa, UAE and Iran, in order of growth rate by value. Egypt and Saudi Arabia were the only two important countries where the growth was not seen.
Portables
Total 2014 sales of portable air conditioners was estimated at 1.8 million units – a drop of 3% on 2013 and valued at $526.5 million. This was despite a huge rise in China, up over 200% to 100,000 units. The USA, the biggest portables market, declined by 6% to 870,000 units.
Window and through the wall units
In 2014, the windows/ through the wall market continued to lose its share with sales down 9% to just under 11.7 million and a value of $2.5bn. The USA continued to be the biggest market in the world comprising 39% of the total market by volume and 54% by value.
Splits
Sales of all splits showed a second consecutive year of growth in value reaching $74.5bn in 2014. 
Growth was seen across all products types in 2014, ranging from 5% to 18% in volume terms. Single ductless splits account for 88% of the total splits market followed by single splits un-ducted 9% and VRF and multi splits. However, the biggest growth was seen in the VRF market which grew by 18%.
The biggest contributors to this growth were China, Japan, the United States, Brazil and India and these countries accounted for 70% of the world splits market by value.
VRF
The VRF market continued with its unbroken growth in 2014 and reached 1.3 million units and a value of $9.7bn.  Top ten markets were in order of importance; China, Japan, South Korea, USA, UK, France, Brazil, Turkey, India and Germany by value.
BSRIA expects this market to grow at the expense of chillers by around 11% CAGR between 2013-2018, in value terms.
Indoor packaged
Indoor packaged are normally defined as self-contained units for light commercial applications, which have indoor installation to respond to space constraints.
The world market was just under 100,000 units in 2014, falling from 108,000 units in 2013 with a corresponding value of $535m. Japan was by far the biggest market for this product accounting around 53% of the total market by value followed by China, Taiwan, Spain and Brazil. 
In the long term BSRIA expects this market to decline by around 5% per annum in value terms between 2013 and 2018.
PTAC
Packaged terminal air conditioners is a region specific heating and cooling product mostly used in North America. The market was 506,000 units in 2014 with a corresponding value of $278m.
The Unites States accounts for over 85% of this market by volume. The PTAC market was particularly dynamic in 2014, as both new construction and refurbishment accelerated in hospitality applications. The market grew from 423,259 units in 2013 to 442,128 in 2014.
Statistical data in this article is quoted from the World Market for Air Conditioning study, published in March 2015. It also includes rooftops, chiller and airside products. For more information on the availability and costs of these reports contact Steve Turner on [email protected] or +44 (0)1344 465610.