In a year that sees many air conditioning and refrigeration companies celebrating anniversaries, there is probably none more significant than the centenary celebrations of component manufacturer Henry Technologies.
1914 was undoubtedly a year of great change. The major event to occupy Europe and, eventually, much of the rest of the world was, of course, the outbreak of WWI but it was also the year that saw the opening of the Panama canal, the first scheduled airline flight and the screening of the first colour film.
It was also a year of huge developments in the industrial world, not least in air conditioning and refrigeration. It was the year that Willis Carrier, the father of air conditioning, published his patent for an air conditioning system with dew-point control. It was also the year that saw a number of domestic refrigerators launched onto the market for the first time and the year that was marked by the founding of one of America's best-known fridge manufacturers, Kelvinator.
Meanwhile, Henry Ford, head of the Ford Motor Company, was bringing motoring to the masses with his Model T Ford. 1914 was the year that the entrepreneurial car manufacturer introduced moving assembly line production techniques and took the unprecedented step of more than doubling workers' wages, introducing profit sharing and reducing the daily shift from nine hours to eight. What many saw as a bold and potentially suicidal decision actually worked. In 1914, with a committed workforce, the Detroit motor manufacturer sold 308,000 Model Ts — more than all the other car manufacturers combined.
Helping meet that huge demand were a number of key component suppliers including a company founded that year in Chicago by Guy Henry. Not initially involved in refrigeration, Guy Henry's company, the rather mundane-sounding Manufacturers Production Parts Company, was selected to supply gas lanterns and accessory gas gauges for the Model T Fords.
It's not recorded what eventually became of Henry's contract with Ford but by the end of the decade, the company was manufacturing a number of new products for the refrigeration market, including globe and angle valves, and filtration and dehydration devices for refrigeration systems.
Renamed Henry Valve
Driven by the rapid growth of the refrigeration industry, Guy Henry moved his operation into a two-storey factory at Grand Avenue and Spaulding Street in Chicago and renamed his company Henry Valve.
It was during the 1920s that Henry lodged the company's first patent – a floating valve seat. The company also designed new valves for refrigeration systems using ammonia, carbon dioxide and methyl chloride.
Elsewhere, one Harry Thompson was patenting the thermostatic expansion valve and in 1928 a team led by Thomas Midgley started work on developing, non-flammable, non-toxic CFC refrigerants. In 1926, Elektrolux had introduced the first gas-fired absorption household refrigerator.
If the 1920s was the decade of huge advances in refrigeration, the 1930s brought equally huge leaps in air conditioning. Six air conditioned homes were displayed at the World Fair in Henry's home city of Chicago in 1934. Despite the depression, such was the popularity of commercial air conditioning that a year later Chicago boasted 934 air conditioning installations, including 171 offices, 143 restaurants, 136 theatres, 90 stores, and 69 restaurants.
Not that Henry Valve had stood still. By 1939 the company had begun to produce a swathe of products for high pressure refrigeration systems. These included a loose-filled desiccant drier with dispersion tube design to increase refrigerant drying efficiencies, diaphragm balanced action packless valves, 'Y' design shells for driers and strainers and wing cap valves with steel compression flanges and separate brass adapters. Many of these new products were exhibited at the very first Refrigeration & Air Conditioning show in Chicago.
The 1940's was a period of further growth for Henry Valve Company. The company "did its bit" during the war by providing products to the government including valves for Hi Shock service aboard US fighting ships. The company received many awards for excellence during the war and when peace came moved to new 50,000ft² plant in the Chicago suburbs of Melrose Park. With the new facilities, the Company could now satisfy the demands of a rapidly growing air conditioning and refrigeration market.
In 1947, 43,000 window air conditioners were sold in the US. Henry Valve's concentration on new product developments resulted in 18 new patents for products including two-stage driers incorporating loose filled desiccants with a ceramic core for filtering and ductile iron ammonia valves. Such was the pace of innovation that Henry Valve's catalogue swelled to more than 750 valves and accessories for the refrigeration and air conditioning industry.
Guy Henry dies
Sadly, founder Guy Henry passed away in 1955 but his wife Bessie continued the Henry legacy by becoming president of the company. Despite the loss, the Henry Valve Company continued to grow through the 60s receiving 12 additional patents over the next ten years including those for moisture indicators, relief valves and various patents relating to the drier product line.
The sixties were undoubtedly progressive years throughout the western world and no less so for Henry Valve, the company adding an extra 22,000ft² to its factory and introducing the Golden Bantam line of packless valves and replaceable Dri-Cor filter drier.
Founder Guy Henry's son Robert J Henry became president of the company in 1970, marking his appointment with the acquisition of AC&R Components a fellow Chicago-based company and leading manufacturer of oil control systems for the refrigeration industry.
In 1974 Henry Valve further expanded its Melrose Park plant with an additional 70,000ft² and relocated AC&R Components to a new plant in Chatham, Illinois. Internationally the company acquired David Scott Company in Glasgow, Scotland and renamed it Henry Valve (UK) Ltd.
In the USA, Henry Valve had expanded its worldwide profile and was now a major supplier to the refrigeration industry both in the US and abroad.
When Robert J Henry passed away in 1982, his wife Lorraine Henry became president.
New products and growth continued with the expansion of facilities in the Unites States and a new manufacturing plant for Henry Valve (UK) in Glasgow. The industry saw new products in the oil control line, including fuse sight glass technology, refrigeration ball valves and a line of suction line accumulators and receivers.
In 1992 Lorraine Henry became chairman of the board, keeping the family tradition alive by appointing her son, the grandson of the founder, Robert G Henry as president.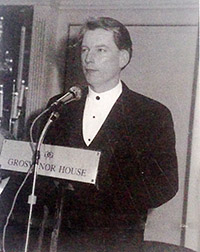 Henry UK was renamed Henry Europe Ltd and another company was acquired – Chil-Con Products Ltd of Brantford, Ontario, Canada, a manufacturer of condensers, heat exchangers, expansion liquid coolers and other heat transfer components.
A new era begins
The new millennium brought another change of name to Henry Technologies. Then, in 2005, Henry Technologies broke with its past when the Henry family sold the business to Hendricks Holdings. This change in ownership brought significant financial support to continue to improve products, increase market share and develop new opportunities. In all, more than $20m has since been invested in state-of-the-art equipment and processes.
In 2010, the company entered into a joint venture with Heldon Products, a leading Australian manufacturer of refrigeration and air conditioning components with production facilities in Australia and China.  In 2014 Henry completed the purchase of Heldon, now renamed Henry Technologies Pty Ltd. The addition of these plants has allowed Henry Technologies to extend its global presence and serve new markets in Australia, China and South East Asia.
Today, Henry Technologies competes in many industrial markets throughout the world and enjoys strong brand recognition within refrigeration, HVAC, heating, and process cooling market sectors.