CZECH REPUBLIC: A combination of the HFO refrigerant 1234ze and "natural" refrigerant CO2 is providing all the ac and refrigeration requirements of a retailer in Brno.
The integrated retrofit design includes air conditioning and medium temperature chiller systems and an independent low temperature CO2 system. Honeywell's Solstice ze brand R1234ze refrigerant is contained in the primary circuit of the integrated refrigeration unit. The ac and MT systems use ethylene glycol as the secondary cooling fluid with CO2 cascaded to the LT system.
The unnamed customer, described as a major cash and carry wholesale hypermarket, issued a tender for a retrofit of its refrigeration and heat recovery system at its 9,700m² store in Brno.
Main contractor Zdenek Danek approached Czech manufacturer Sinop CB to supply refrigeration racks, with another Czech-based company, CTS Engineering, providing design services.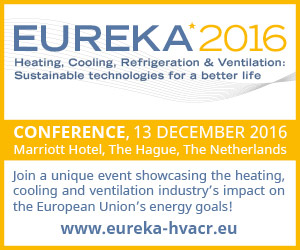 The customer demanded a low GWP and low carbon solution as a retrofit replacement for the existing R404A-based system.
Specifically the end user specified refrigerant technology with a GWP lower than 150 and an ODP of zero. Refrigerant with classification A1 was specified for direct cooling, and A1 or A2L for indirect cooling. Higher operational efficiencies were demanded, with the integration of air conditioning, cooling and heat recovery systems to optimise those energy efficiencies.
Faced with completion by May of this year, the system was retrofitted over a four-month period, with the main contractor working during the night to avoid unnecessary disruption to the end user.
The rack manufactured by Sinop is located outside the supermarket in a ventilated machine room accommodating MT and LT refrigeration equipment, along with integrated air conditioning (ventilation, cooling, heating) technology that ensures a constant internal temperature of 15 to 28ºC.
Solstice ze is contained in the primary circuit of the integrated refrigeration unit, with CO2 cascaded to the independent LT system via another auxiliary source in order to ensure operational safety.
De-superheating and condensation heat from the AC and MT systems is routed to a mono-ethylene glycol (MEG) system, which is cooled in a hybrid dry-cooler that operates in dry mode below 16.3ºC ambient, and as a cooling tower above that threshold. An antifreeze water solution of sodium-tetraborate–pentahydrate with freezing point of -15ºC transfers the heat from the cabinets to the primary circuit.
System heating is provided through two heat pumps with a total capacity of 490kW, delivering water temperature gradient at heatsink +58ºC to 65ºC and COP>4.1 for heating and >4.6 for cooling with 0ºC ambient.
The new cooling system is said to working problem-free and, to date, energy consumption has been reduced by an estimated 20-30%.
In addition, the ultra-low GWP refrigerants employed contribute to a significant CO2e reduction. Reduced operating costs have also been observed due to lower maintenance requirements and lower leakage levels.
Related stories: