UK: Next week's National Women in Engineering Day is receiving broad support from the air conditioning and refrigeration industry.
National Women in Engineering Day, organised by the Women's Engineering Society (WES), and taking place on June 23, has received backing from both the Institute of Refrigeration and the Building Engineering Services Association (BESA).
The air conditioning and refrigeration industry bodies make up two of the 14 sponsors of the event which is designed to raise the profile of women in engineering and focus attention on the career opportunities that engineering provides.
The IoR is using the day to launch a new Women in RACHP network. Backed by the ACR Journal, the network will launch with a webinar talk by IoR member Catarina Marques based on research she has carried with Ina Colombo of the International Institute of Refrigeration as part of a Women in Refrigeration workshop. This looked at global skills shortages in engineering and technical staff, the growing demand for refrigeration professionals and opportunities to increase representation of women in this field.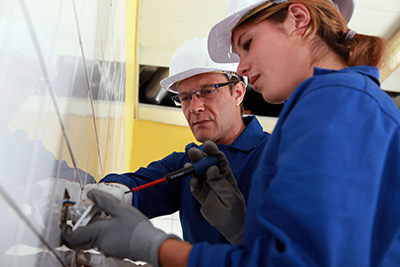 The webinar will be opened and chaired by IoR president Steve Gill, who has been one of the main driving forces behind its backing for the event.
"I am delighted the Institute is a sponsor of NWED as its aims are aligned to the institute," Stephen Gill told the Cooling Post.
"It is widely recognised that our industry is facing a skills shortage," he continued. "We need to do more to encourage and engage with young people to attract them into engineering and our industry. It is critical that we appeal to the whole of the human talent pool."
As well as needing to attract women into the industry, he also warned that the industry needs to do more to support those working within it. 
"There is a Chinese saying that "Women hold up half the sky". It is the challenge of engineering in the 21st century to enable and encourage more women to fulfil their potential, he said.
Having worked with a small number of highly skilled and talented women engineers during his career, Steve Gill observed: "There is a misconception that engineering does not offer an interesting and real career path for women. We need to change this. We need to find and promote role models for women who are considering their careers in this area.  We also need raise awareness to the potential exciting roles and career prospect this industry offers to the advisers of young people too.
"Engineers are renowned for their innovation, ingenuity and problem-solving skills, we must now use all these attributes to overcome the  challenge of attracting and retaining women engineers."
Imbalance
The imbalance between the genders in engineering is most pronounced in the UK. Just 9% of registered UK engineers are female compared to 18% in Spain, 20% in Italy and 26% in Sweden. Out of every 100 people on construction sites, just one is a woman. And the UK is 28th out of 28 in the EU league table for the numbers of women in engineering.
To try and improve the situation in the building services sector, Malcolm Thomson, BESA's incoming president, will act as one of the mentors in the Women's Engineering Society's MentorSET programme, an initiative designed to encourage women to consider engineering careers.
"For engineering, which is suffering from a growing skills shortage, to be effectively recruiting from just half of the available workforce is crazy," said Malcolm Thomson, who has been elected to serve as BESA president from July of this year.
"The adoption of modern methods of working and the emergence of "big data" and digital design techniques, along with the rapid advancement of building services technology, mean the sector desperately needs more talented young people with new skills and from a much wider background."
Engineering UK's latest workforce report reveals that Britain needs to recruit and train 69,000 more engineers every year than it does currently to meet employers' demands. "Without these numbers, the UK will not be able to deliver infrastructure projects that are vital to our nation's economic and social prosperity," said Mr Thomson.
"There are amazing career opportunities in our industry, but gender stereotypes still hold sway, and our businesses are missing out as a result. And, whether we like it or not, there is clearly an element of unconscious bias that leads to many women being turned off by building engineering.
"Our industry needs a diverse workforce to remain competitive. Without a healthy proportion of women, young people and the widest possible ethnic diversity, we will not have the spread of skills we need to advance the science and technology of building engineering services."
BESA is planning to follow up the National Women in Engineering Day events with a seminar at London South Bank University covering the business benefits of a proactive approach to diversity. While exact details are yet to be finalised, this event take place in October and will be aimed particularly at small and medium-sized contractors.
For more information, visit www.nwed.org.uk.
To register for the Institute of Refrigeration webinar click here.