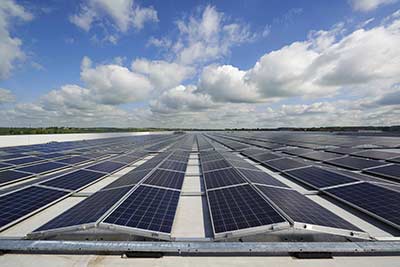 Aldi's new energy efficient cold store, warehouse and distribution centre being built at Goldthorpe, near Barnsley, UK, features an unusual single envelope design by ISD Solutions, with high performance insulated panels and a solar PV system from Kingspan.
Due to open in 2015, the £25m development spans 52,000m2 and will serve Aldi's growing portfolio of stores across South and West Yorkshire, Lincolnshire and Derbyshire, employing some 400 new staff.
With overall project management lead by DSP Construction and following a strict tendering process, ISD Solutions was selected to provide its expertise in single envelope warehouse design and build, especially thermally efficient cold store construction.
The specification for the project was for a high performance, environmentally friendly solution, with extremely low running costs. The single envelope design was said to have been chosen because it produces a structure that is faster and more cost effective to build, with significantly improved thermal properties.
It is said that the single envelope construction requires between 33-50% less supporting steelwork than conventional structures, while the airtightness of the envelope ensures that the interior environment, both in the ambient and chilled areas of the warehouse, requires less energy to maintain and control.
Kingspan's 20,000 m2 of controlled environment insulated wall panels installed on the project will ensure controlled temperature levels within the cold store. The panels feature an innovative secret-fix system that not only delivers good airtightness, but also results in a fixing-free, clean surface to the panel façade. Kingspan Topdeck insulated panels have been chosen for the ambient roof as their pre-adhered membrane saves on installation time.
To ensure fire safety, ISD installed steel-faced composite panels, with non-combustible mineral fibre cores, to form a wall between the ambient warehouse and chill warehouse as they ensure excellent fire resistance from 60 to 240 minutes, if needed.
Both the ambient and the chilled areas of the warehouse feature Kingspan roof-mounted PV system, designed, supplied and installed by Kingspan Energy. The 1.5MWp solar PV system covers a total area of 15,000 m2 and consists of 1,500 modules, 250Wp each. It will provide Aldi with 1.2MW of electricity per annum.
"The new Aldi distribution centre at Goldthorpe is one of the biggest rooftop solar PV installations we have undertaken to date, and we are pleased to have completed it in a relatively short time frame of less than three months," commented Kingspan Energy's commercial manager, Aisling McArdle.
ISD Solutions managing director Tony Wall said: "We have been working with Aldi across a number of in-store frozen and chilled food storage solutions and this is our first stand alone warehouse project for the store group. The range of composite panel technology incorporated in this project, together with the solar PV system, makes this a truly state-of-art warehouse structure. We have also been able to incorporate the warehouse energy centre, normally requiring a separate structure, into the main building, resulting in a simpler, more cost effective solution."