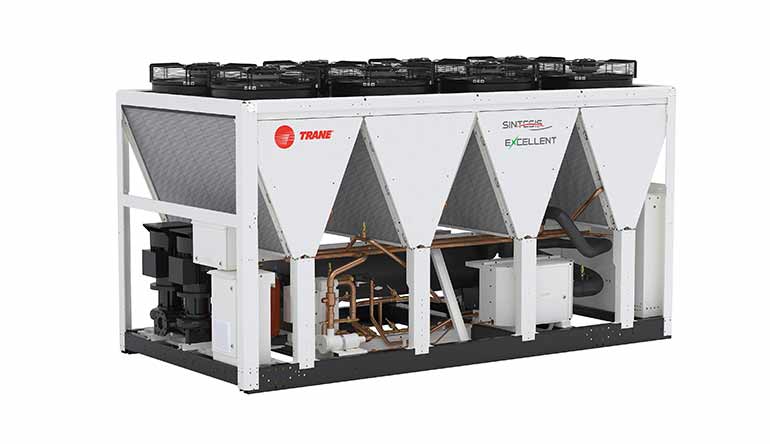 BELGIUM: Trane has introduced new air-cooled Sintesis eXcellent GVAF and water-cooled XStream eXcellent GVWF chillers with magnetic-bearing compressors and low GWP refrigerant R1234ze.
New high-speed centrifugal compressor technology is said to enable the chillers to offer larger capacities, wider operating maps matching the toughest European climate conditions, and increased seasonal efficiencies, all within a smaller size.
The new air-cooled Sintesis eXcellent GVAF models offer capacities from 450kW to 1600kW with SEERs up to 6.5, making them suitable for larger commercial and industrial process applications. Additionally, the new GVAF range features models specifically designed for data centre applications with capacity up to 1900kW.
A stronger operating map is said to allow the units to deliver reliable cooling at 48°C ambient.
The GVAF XSS, the smaller version of the Sintesis eXcellent is said to be up to 3375 mm shorter than the standard frame of similar capacity, which makes it suitable for replacement of old generation chillers or where more efficiency is needed within a smaller space.
The new XStream eXcellent GVWF water-cooled chillers now offer increased performance and cost effectiveness. The new GVWF XSE range delivers from 380kW up to 2.1MW of capacity with SEER of up to 10 and enlarged operating map of up to 30°C evaporator leaving water temperature.
Both the air-cooled and water-cooled chillers feature the latest Trane Symbio 800 adaptive controller that offers intelligent control over the operational reliability and efficiency of the cooling system.
The Trane Symbio 800 controller is designed to keep the unit running despite the most challenging conditions and occurrence, a particularly important feature for data centres.
The new features specifically designed for the Sintesis eXcellent GVAF include new, embedded software designed to restart the unit faster in case of an unexpected shutdown, enhanced connectivity and the ability to be connected to an uninterrupted power supply.
"The new magnetic-bearing compressor technology optimised for R1234ze has opened the door for solutions that achieve much higher efficiencies, reliably perform in wider operating maps and do so within a smaller footprint, prioritising low impact on the environment," said Erik van Oossanen, portfolio leader at Trane EMEA. "Thanks to the smaller size, the new Trane chillers are also ideally suited for replacement of older generation chillers, allowing customers to benefit from higher efficiencies with lower overall total cost of ownership," he added.