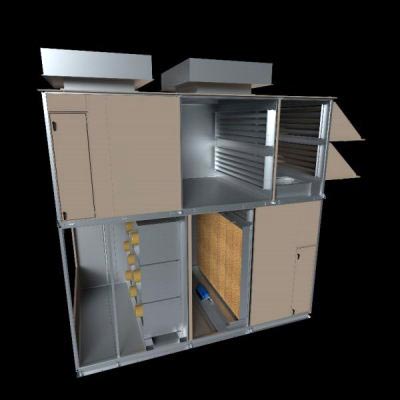 USA: The new York Mission Critical direct evaporative cooling (DEC) air handling units from Johnson Controls are designed to meet the specific needs of data centres.
The units are offered in two sizes (250kW and 500kW) and in perimeter and rooftop configurations. The are said to achieve a partial-power usage effectiveness (pPUE) of less than 1.1.
Unlike most DEC AHUs, Johnson Controls says these new AHUs are designed to meet phased data centre expansion strategies. Optional direct expansion (DX) or chilled water cooling (CWC) coils allow for installation in diverse geographic locations while maintaining a low initial investment.
These compact units feature intelligent factory preconfigured controls to do away with field programming and allow commissioning via a smart device.
Staged control optimises water utilisation and front-loading filters offer ease of installation and speed of maintenance.