UK News
£130,000 fine for illegal waste exports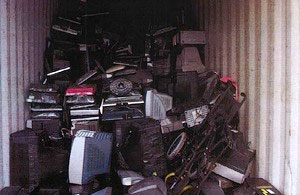 UK: Husband and wife directors and their Warrington recycling company have been fined £130,000 for illegally exporting 187 tonnes of hazardous electronic waste, including fridges.
Mark Daniels, one half of the married couple, was also given a nine-month suspended sentence for the offences recorded between 2011 and 2015 involving exports to six African countries.
The prosecution was brought by the Environment Agency after its officers found 11 shipping containers full of electrical waste destined for Nigeria, Ghana and Tanzania.
The BBC's Panorama programme fitted a hidden tracking device to a broken television and left it at a civic amenity site in south London. The TV was tracked to Daniels Recycling, a waste site in Warrington, and then back down to Felixstowe port, where officers found the TV in a shipping container. It was seized before it was illegally exported. This evidence formed a crucial part of the Environment Agency prosecution case.
These 40-foot containers, each with about 15 tonnes of e-waste inside, had wrapped items at the front, which were made to look like working products. However, further back the container included hazardous broken fridge freezers and cathode ray televisions which were described as second-hand goods but didn't work.
Waste company Daniels Recycling, based in Slutchers Lane, Warrington, had already been served with an enforcement notice by the Environment Agency. In addition to these 11 containers planned for illegal export, the Environment Agency prosecutors told the court that the company had illegally exported another 186 shipping containers to Nigeria, Ghana, the Ivory Coast, Tanzania, Gambia and Togo.
The company and its directors, Mark Daniels of Reynolds Street, Warrington, and Lynn Gallop of the same address, pleaded guilty to shipping the containers illegally.
Mark Daniels was given a nine-month custodial sentence suspended for two years and ordered to pay £50,000 under the Proceeds of Crime Act and a £20,000 contribution to costs. Daniels Recycling Ltd was fined a total of £25,000. Lynn Gallop was fined £450, with £25,000 Proceeds of Crime Act and a contribution to costs of £10,000.
Ezenwa Ogbonnaya and M2 Ventures Ltd also pleaded guilty to exporting six of the containers, having bought the waste from Daniels Recycling. Sentencing of Mr Ogbonnaya and his company has been adjourned to March 2016.
Andrew Higham, who leads the Environment Agency's National Environmental Crime Team, said: "The rules governing the exportation of waste electrical equipment are in place for good reason – to protect human life and the environment. It is illegal to send hazardous waste to developing countries. All organisations handling waste have a responsibility to check they know where their waste is going so it doesn't end up causing harm to people or the environment."