UK News
Airedale joins supply chain consortium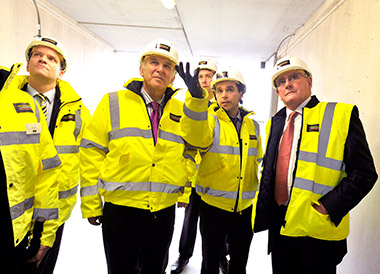 UK: Airedale International is one of 22 companies in a consortium bidding for funding under the UK government's Advanced Manufacturing Supply Chain Initiative.
A strong manufacturing sector is considered to be vital to a balanced economic recovery. Under the government's Industrial Strategy for Construction, AMSCI was established to improve the global competitiveness of UK advanced manufacturing supply chains. To date, four rounds of funding have secured nearly £0.5bn of public-private investment involving more than 180 organisations and creating or safeguarding more than 30,000 jobs.
The scheme will benefit the construction industry through improving its design and manufacturing technologies, mirroring best practice – notably increased automation – applied in other industries such as the automotive industry. In addition to creating employment opportunities, the government also expects that the individual businesses involved will enjoy higher knowledge and skills levels. By 're-shoring' production in the UK and enabling UK-based companies to be more successful in competing for both local and overseas business, the government hopes to rebalance the economy and shift the emphasis from the service sector which currently dominates the UK economy. 
In the consortium with Airedale are Laing O'Rourke, Apex Cables, Armstrong, Arup, Beckhoff Automation, British Gypsum/Saint Gobain, BRE, Comau, Crane, Crown House Technologies, Expanded, Explore Manufacturing, Fulcro, Grundfos, Hamworthy Heating, Hoare Lea, Select, SIG, Thorn Lighting, University of Cambridge, University of Sheffield Advanced Manufacturing Research Centre and WSP.
George Hannah, Airedale's technical director said: "We see tremendous opportunities for Airedale from being involved in this initiative. Being part of plans to return the UK to a centre of excellence for manufacturing is an extremely exciting prospect. 
"Airedale will directly benefit through access to new routes to market with knock-on benefits for our traditional customer base as we increase the pace of innovation even further. We expect it to lead to additional job opportunities at all levels from apprentices to post graduates who will have plenty of opportunity to grow their skills through training and collaboration with the partners involved in the scheme."
Airedale was selected because of its 40-year heritage in technical excellence and innovation. The type of products it expects to manufacture under the programme will be modular facilities such as plant rooms, hydronic modules for heating and cooling, electrical and control systems, as well as chillers and air handling units.
Stephen Harley, director of advanced manufacturing at Laing O'Rourke said: "This grant comes at a critical time for the construction and engineering sector and its supply chain. Our consortium, which includes Airedale, integrates the design, manufacturing and assembly construction supply chain with leading research institutions to create a new platform for collaborative innovation."