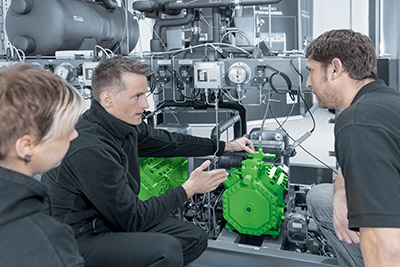 GERMANY: Drawing on its long experience in CO2 refrigeration systems, German compressor manufacturer Bitzer has just completed its 100th CO2 training course.
With interest in CO2 growing, particularly for supermarket refrigeration systems, there is great demand for a better understanding of this high pressure refrigerant. CO2 is establishing itself at different speeds in different parts of the world, with northern Europe, Australia and Switzerland leading the way.
Bitzer claims more than 15 years experience in the development and manufacture of compressors for use with CO2 for subcritical and transcritical applications.
Such has been the demand for knowledge that Bitzer has just completed its 100th course with a two-day transcritical CO2 training course at its training centre in Rottenburg.
The speakers share both theoretical and practical basic knowledge on the use of the refrigerant CO2. The practical section offers training in commissioning and troubleshooting in exceptionally realistic exercises. The trainers also delve deeper into specific topics associated with Bitzer products and CO2 applications.