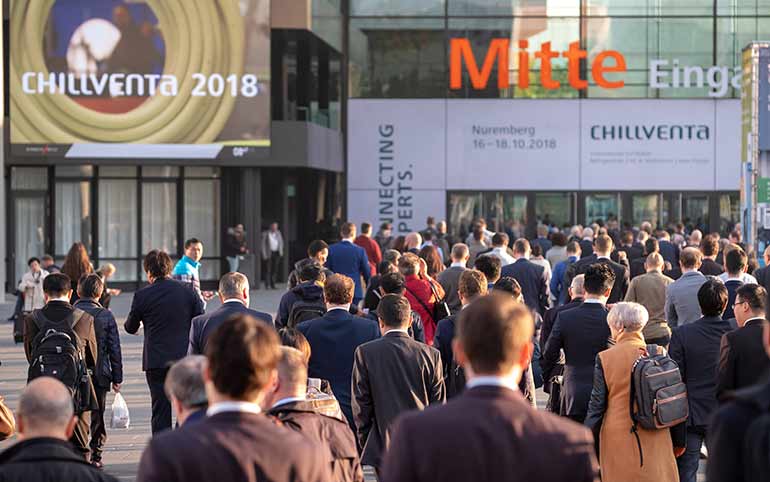 GERMANY: Chillventa 2020, the major biennial European show for the refrigeration and air conditioning industry, has been cancelled due to the ongoing effects of the coronavirus pandemic.
Due to take place in Nuremberg from 13-15 October, there had been concerns about the viability of the event which attracts over 1,000 exhibitors and 35,000 visitors from around the world. The organiser has now announced that Chillventa 2020 is cancelled, with the exhibition resuming its normal biennial sequence on 11-13 October 2022.
"This wasn't an easy decision," said Petra Wolf, member of the management board of NürnbergMesse. "To gauge the mood of the industry, we carried out an extensive survey of the more than 800 exhibitors from around the world who registered for 2020 and all the visitors who attended Chillventa 2018. The results informed our decision to cancel Chillventa for this year," she added.
There are possibilities that parts of the Chillventa 2020 event, like the Chillventa Congress seminars, could be taken online.
"The many discussions we have had in recent weeks have shown us that, given the unusual circumstances this year, our customers would still like the opportunity to interact, and they need to learn about new products, even if they can't attend in person," said Petra Wolf.
"We are therefore pulling out all the stops to offer a platform we can use to hold the Chillventa Congress, for example, or the trade forums or the product presentations in a virtual format, so we can satisfy the need to share knowledge and provide a dialogue with experts for experts."
Survey
The decision to cancel was taken after discussions with Chillventa's Exhibition Advisory Board, and its international network of representatives, and from the comments and opinions of participants to the online survey the organiser conducted last month.
The results of the survey revealed concerns that holding the event this year were too great. Reasons included the current global uncertainty, which also affects the refrigeration, AC, ventilation and heat pump industry, and is dampening investor enthusiasm, causing revenue losses and interrupting production. At the same time, limited business activities due to government regulations and international travel restrictions are making it more difficult for trade fair participants in many locations to plan and prepare their attendance at events such as this.
"We are very grateful for the many candid and constructive conversations we have had with our exhibitors, professional associations and the Exhibition Advisory Board in recent weeks, all of which have helped us with our decision-making process," the organiser said.  
"From the outset, Chillventa has enjoyed an extremely high level of international participation – about 70% in the case of exhibitors and about 60% for its visitors," commented Chillventa exhibition director Daniela Heinkel.
"This year, we would be unlikely to achieve the level of international participation that's important to both our exhibitors and trade visitors, considering the current international travel restrictions and the economic situation as a whole. So by deciding not to hold the exhibition again for a further two years, we are lining up for a successful Chillventa at the Nuremberg exhibition venue in 2022."
Related stories:
Serious concern over Chillventa 2020 – 4 May 2020
GERMANY: The Chillventa 2020 organiser is facing the possibility that this year's event might not happen or, if it does, it may be more national in content. Read more…