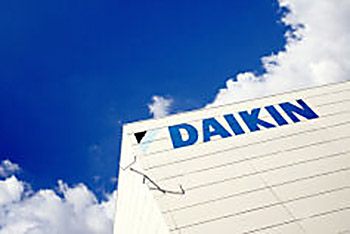 JAPAN: Daikin is aiming for a record year after sales grew by 11% to JPY1,078.7bn (€8.15bn) in the six months to the end of September.
Total global air conditioning sales were up 10% to JPY975.2bn (€7.37bn) in the first half of this financial year. Daikin's chemicals business was up 18% to JPY78.8bn (€600m).
With disappointing sales in its home market, the Americas confirmed its position as Daikin's largest market. The latest figures show US sales were up 21% to JPY273bn ($2.22bn). Utilising the Goodman sales network, sales of residential splits grew by 35% compared to last year.
Despite the economic downturn in China and the slow recovery for demand in Japan, sales in overseas markets also expanded in Asia, and Europe. Even in China, Daikin experienced increased revenue and profits as a result of growth in residential VRV systems.
Sales increased across all sectors in Europe, with the best returns in the residential sector where sales grew by 34% thanks to strong sales in Italy, France, and Spain. Overall, European air conditioning sales grew 10% to JPY128.6bn (€970m) compared to the first half of last year.
In its chemicals business, the acquisition of Solvay at the end of January contributed to refrigerant sales increases of 68%.
Related stories:
Daikin plans $410m US factory – January 7, 2015
USA: Daikin is to build a new 350,000m² factory in Houston as part of plans for a major medium- to long-term expansion of its US market. Read more…
Daikin to build R32 units in the USA – October 15, 2015
USA: Daikin is to start manufacturing air conditioners using low GWP refrigerant R32 in the USA. Read more…
Daikin buys German refrigerant plant – January 30, 2015
BELGIUM: Daikin has gained a European manufacturing base for refrigerants with its purchase of Solvay's German-based refrigerant business. Read more…