NETHERLANDS: Places are still available at next month's major European conference tackling issues surrounding refrigerants, the cold chain, IAQ and building efficiency.
Eureka 2016: Heating, Cooling & Ventilation: Sustainable technologies for a better life takes place in the Hague on December 13.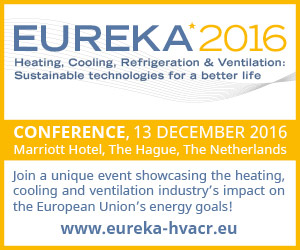 Organised by EPEE and the European ventilation group EVIA, Eureka 2016 is intended to showcase the HVACR's industry's impact on the EU's energy and climate goals, demonstrate the potential, attractiveness and innovative nature of the industry, and provide a platform for networking. At the same time, participants will be able to see how much EU and national policies impact our sector and the extent to which policy change can be a positive driver for innovation and new technologies.
It is backed by a number of high-profile sponsors, including Carel, Emerson, Danfoss, Daikin Europe, Mitsubishi Electric, RLT Herstellerverband and Systemair,
Topics for the day will include the role of refrigeration in reducing food waste; increasing political awareness on indoor air quality and thermal comfort; the impact of the new F-gas rules in Europe and beyond; driving energy efficiency in buildings.
Further details from www.eureka-hvacr.eu.