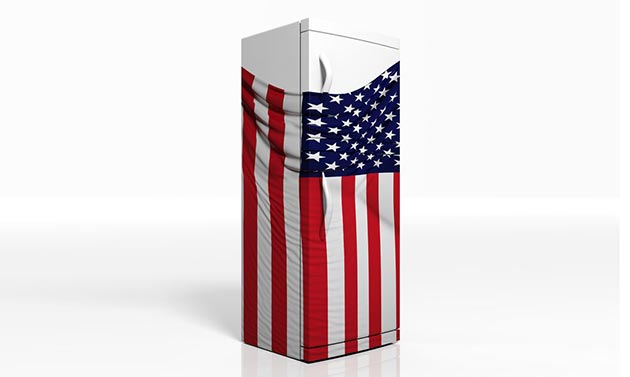 USA: The US Environmental Protection Agency (EPA) has cleared the way for hydrocarbon refrigerants to be used in new household refrigerators and freezers.
EPA Administrator Scott Pruitt has now signed the document allowing isobutane, propane and R441A to be used in new household refrigerators, freezers, and combination refrigerators and freezers under the USA's Significant New Alternatives Policy (SNAP) programme.
R441A is a blend of the hydrocarbons ethane (R170), isobutane (R600a), propane (R290) and butane (R600).
A new standard published earlier this year – UL 60335-2-24 – updated the safety requirements for hydrocarbon fridges in the US, increasing the charge up to 150g, and bringing them in line with international standards. Only 57g of refrigerant was allowed under the previous standard, a  charge size considered too small to allow cost effective and energy efficient manufacturing.
While other countries have been using hydrocarbon fridges for over a decade, US consumers have continued to purchase around 12 million new fridges a year using R134a. It is estimated that if the US follows the rest of the world in eliminating R134a in domestic fridges, it could avoid emissions of up to 3.7 million metric tons of direct CO2 equivalent annually.
"The U.S. market has lagged behind the rest of the world for many years in adopting climate-friendly fridges, due to an outdated restrictive standard that had prevented hydrocarbon refrigerators used globally from entering the market. This rule will allow innovative American appliance manufacturers to catch up with the rest of the world," said Avipsa Mahapatra, climate campaign lead of environmental group EIA. "This rule would also help meet American commitments to reduce HFCs under the Kigali Amendment to the Montreal Protocol."
EIA, together with the North American Sustainable Refrigeration Council (NASRC), submitted a petition in September requesting that the EPA take this step.
"The market is rapidly shifting to climate friendly refrigerants which, in many cases, require updated safety standards," said Christina Starr, EIA climate policy analyst. "The hydrocarbon fridges are also significantly more energy efficient than those using HFC refrigerants, bringing added cost savings for consumers," she added.
The new rule has been submitted for publication in the Federal Register. It will enter into force 90 days from date of publication.
Related stories:
Electrolux welcomes US hydrocarbon move – 12 May 2017
SWEDEN: Moves to revise US safety standards and allow the use of hydrocarbon refrigerants in US domestic refrigerators have been welcomed by white goods manufacturer Electrolux. Read more…
US closer to adopting hydrocarbon fridges – 1 May 2017
USA: The use of hydrocarbon refrigerants in domestic refrigerators in the USA has moved a step closer after the approval of a new safety standard by the US Underwriters Laboratories (UL). Read more…
Will the US follow Europe with hydrocarbons? – 5 July 2016
USA: While flammable hydrocarbon refrigerants are now commonplace in Europe, a leading US manufacturer, faced with a global drive to reduce HFCs, wonders if and when they will be accepted in the US. Read more…