The interest created by the introduction of IBM's SlamTracker at the Wimbledon Championships has illustrated the potential for meaningful data to add to the tennis fans' experience. Richard Burcher, marketing manager of Airedale International Air Conditioning, suggests that similar meaningful data from a BMS system could be invaluable in the cooling industry. 
As we find ourselves midway through the Wimbledon Championships, there are many similarities between the latest innovations in the use of data in the sporting world and the cooling industry.
The power of data is without question. There is certainly beauty in the numbers. With increasing pressure on budgets and heightened emphasis on demonstrating return on investment (ROI), the ability to make decisions based on fact rather than perception or gut feeling has even greater significance.
Data therefore has to be seen as an ingredient which needs to be converted into value. Without context and analysis added to data, it is meaningless. Trends cannot be identified and operational efficiencies will never come to fruition.
The latest innovation launched at this year's Wimbledon Championships is IBM's SlamTracker. This innovation realises the potential of data and translates it into meaningful information to fans and players dynamically.
It puts enthusiasts at courtside, providing live updates on match scores, statistics, service speeds, aces and winners. Key information is delivered in real-time, providing an immediate, accurate and visual picture of a match as it unfolds. With SlamTracker IBM has not been afraid to demonstrate how technology can add to the fan experience.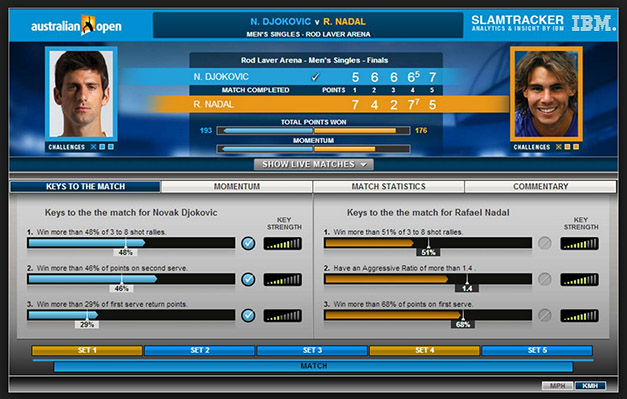 SlamTracker's Key to the Match application is a further example of the success of interpretation and visualisation of data. Predictive analytics technology is used to farm over 8 years of Grand Slam Tennis data, including 41 million data points, to determine patterns and styles for players when they win. Prior to each match, the system runs an analysis of competitors' historical matches, statistics and comparable styles; this provides a player with a rich pool of information to help identify the best tactics and strategies to adopt to win the match.
The level of detail collected via the system brings an added dimension to the world of sport, providing data-driven, innovative broadcast coverage, engaging reporting and intelligent professional analysis.
Systems such as SlamTracker are dependent on data centre uptime. There are many similarities between systems like SlamTracker™ and the modern-day data centre building management system. An effective BMS should collect, package, analyse and distribute live data, providing at-a-glance dashboards to facility managers. A BMS will take the mass of information available and convert it into a usable format, giving you the capability to adapt, learn and grow to best manage and optimise facility performance.
Your BMS should be built on a consistent and reliable approach across sites. It needs to function to the same standard, using the same software and to the same definitions, providing you with a global standard for credible decision-making, based on fact. As with the innovation used at Wimbledon this year, your system needs to provide you with the complete picture of your data centre, with full visibility from building level to server level.
It could be argued that many data centre expansion projects could be avoided if organisations made better use of their existing IT resources and, with this in mind, a definitive strategic plan for your IT facility should invariably consider BMS as a top investment priority.
Put simply, data is the ingredient. With the right BMS, you can turn data into value and serve up match winning performance.