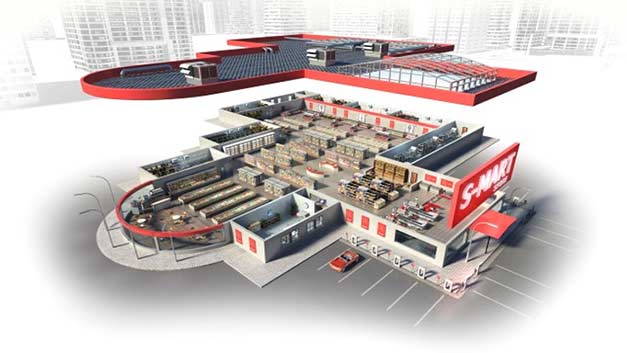 DENMARK: Danfoss says its Smart Store concept is offering supermarkets a range of energy saving solutions based around CO2 refrigeration.
The Danfoss Smart Store solution is said to enhance food safety and brings down the energy bill by integrated and smart control of refrigeration, HVAC, lighting and other applications.
"With smart and integrated solutions for compressors, refrigerated display cases, cold rooms, HVAC, lighting and with external grids we can offer energy savings of up to 50% with the Smart Store solutions," commented Henrik Schurmann, vice president of Danfoss Food Retail.
Aware that energy consumption is one of the biggest cost drivers in supermarkets, the Smart Store concept aims to enable net-zero stores or even stores that supply more energy than they use.
It is well documented that the compressor pack typically accounting for 30-50% of a store's energy consumption but that compressors only need to run at full speed for about 10% of the time to meet the cooling demand. Frequency converters and suction pressure optimisation are some of the measures brought into play to save up to 30% on a typical supermarket energy bill. By adding heat reclaim to the compressor pack, the savings can be even bigger, says Danfoss.
"There is a huge waste of energy from the compressor pack, when only about 30% of the installed compressor capacity is actually used for refrigeration," said Henrik Schurmann. "This leaves an untapped energy reservoir that can be used for heating of the store premises, hot water or fed into the local district energy network. The returned energy savings typically pay back the investment in less than a year."
Electronic evaporator controls and valves can also save a lot of energy. According to Henrik Schurmann, the application of adaptive superheat can potentially save up to 12% on the energy bill.
Smart grid
in addition to increasing the energy efficiency inside the store, Danfoss sees flexibility in energy demand – or smart grid integration – as being part of the solution. According to the company, compressor load shedding in supermarkets can release as much as 60-80 % of the cooling capacity for up to 20 minutes on specific grid requests.
"Food safety always comes first when we talk about load shedding," says Schurmann. "It requires extremely precise and reliable control of all refrigeration equipment to take the compressors out for any amount of time. Our Smart Store solution puts safety first and allows interaction with the electricity grid to achieve a perfect balance between energy consumption of the store and demands from the grid owner."
CO2 systems
While some have concerns over the use of CO2 due to its high pressures and relatively high investment costs, Danfoss has championed the application of the low GWP refrigerant.
"We have pursued our development activities to prove that CO2 is not the ugly duckling, but a highly attractive alternative with high efficiencies especially when combined with heat reclaim," says Henrik Schurmann.
With more than 7,000 Danfoss transcritical CO2 systems already operating in European supermarkets, Schurmann expects to see a similar development in the US in the coming years. Furthermore, innovative technologies open new opportunities for the application of CO2 in warmer climates and with ever higher efficiencies.