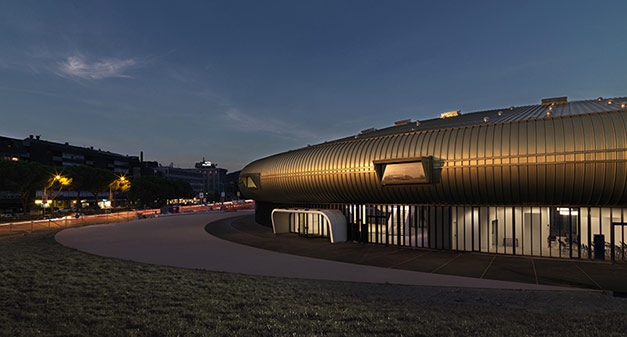 ITALY: Contemporary art meets modern technology in a heating and cooling solution for a leading art galley in Florence.
Mitsubishi Electric Hydronics & IT Cooling Systems has supplied a heat-pump-based Climaveneta air conditioning system for the refurbished Luigi Pecci Centre for Contemporary Art, which opened in August last year after being closed for three years.
Founded in 1988, the Pecci Centre decided to double its exhibition space and, at the same time, to restructure the original building. Extension work began in 2006 and focused on building a new wing. In addition to more than doubling the size of the exhibition space, the new centre also has an archive and specialised library which will include over 50,000 volumes, an outdoor theatre, a cinema/auditorium, a performance space in the galleries, a bookshop, a restaurant, and a pub/bistro.
Sustainable
The new Pecci centre is innovative not only from an architectural point of view, but also in terms of its state-of-the-art and sustainable mechanical systems.
The lighting and air conditioning systems have been designed to offer the best internal comfort for the visitors to the centre while guaranteeing lowest running costs and minimal impact on the environment.
The installation comprises two Climaveneta NECS-WQ 0512 water-cooled multi-purpose heat pumps, controlled by Manager 3000, Climaveneta's centralised management and control system. The water-source units are linked to a nearby artesian well.
The multi-purpose heat pumps can work in cooling only, heating only, and simultaneous heating and cooling mode, to satisfy the building's year-round needs.
Backed by the positive result obtained from the first installation, the same team of designers also planned the replacement of the old heating system in the original building with multi-purpose heat pumps.
The first phase has included the refurbishment of the cinema/auditorium, where the autonomous HVAC system is based on a Climaveneta NECS-Q-0262 unit. In this instance the designers selected an air-source multi-purpose unit to provide a simpler system in terms of maintenance.