UK: Toshiba has supplied heat recovery VRF air conditioning to the Bannatyne Health Club and Spa in Peterborough as part of a major refurbishment.
The Bannatyne Group is the owner and operator of a portfolio of health clubs, beauty spas and hotels in the UK. It was founded by Dragons' Den star Duncan Bannatyne in 1996 and currently operates 66 Health Clubs, 37 of which have bespoke spa facilities, and five hotels. The Group boasts over 200,000 members and is one of the few with a national footprint in the UK.
The Toshiba variable refrigerant flow (VRF) system is now providing high-performance, energy-efficient cooling and heating for the Peterborough club's gym, exercise studios, treatment rooms, salon, offices, reception and bar area.
The installation, carried out by Toshiba T7 warranty partner Ventec Services Ltd, includes a combination of eight Toshiba 3-pipe SHRMe VRF and 2-pipe SMMSe VRF condensing units, linked to four-way cassettes and wall-mounted indoor units, together with a Toshiba touch screen controller. To minimise disruption to club members, the installer worked on the project out of hours, with equipment deliveries scheduled accordingly.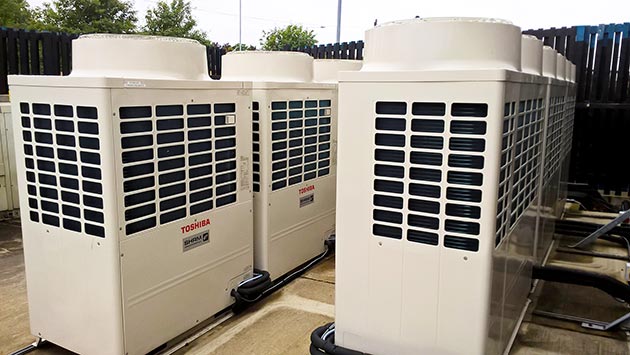 Steve Hancock, Bannatyne Group's technical services director, said: "Providing a comfortable environment for our members and staff is vital to our mission. Energy efficiency is also very important."
Key requirements of the client and consultant, Services Design Associates Ltd, were a high quality, reliable and energy efficient system. Toshiba application staff supported the consultant through the design stage, while Toshiba distributor Cool Designs Ltd supported the installer on site.
As a result of the successful completion of the Peterborough project, Bannatyne Group – which is a Toshiba Premier Account customer – has placed further orders for Toshiba air conditioning for installation at other health club and spa sites.