UK: Faced with electricity supply problems on a landmark London residential development, developers have adopted gas-powered absorption chillers to provide comfort cooling.
The prohibitive cost of providing the necessary power to six residential apartment buildings at Embassy Gardens, a landmark development in Nine Elms, led to the installation of 128 Robur gas-powered absorption chillers.
More than 2.3MW of cooling has now been provided across three phases of the residential build.
Embassy Gardens is a 17 acre site in the heart of the Nine Elms regeneration area which will deliver 1,750 new homes, 20,000m² of commercial space and 12,077m² of retail. Nine Elms is one of Europe's most significant regeneration projects, comprising thousands of luxury homes, workspaces and amenities as well as the new US Embassy, Battersea Power Station and New Covent Garden market.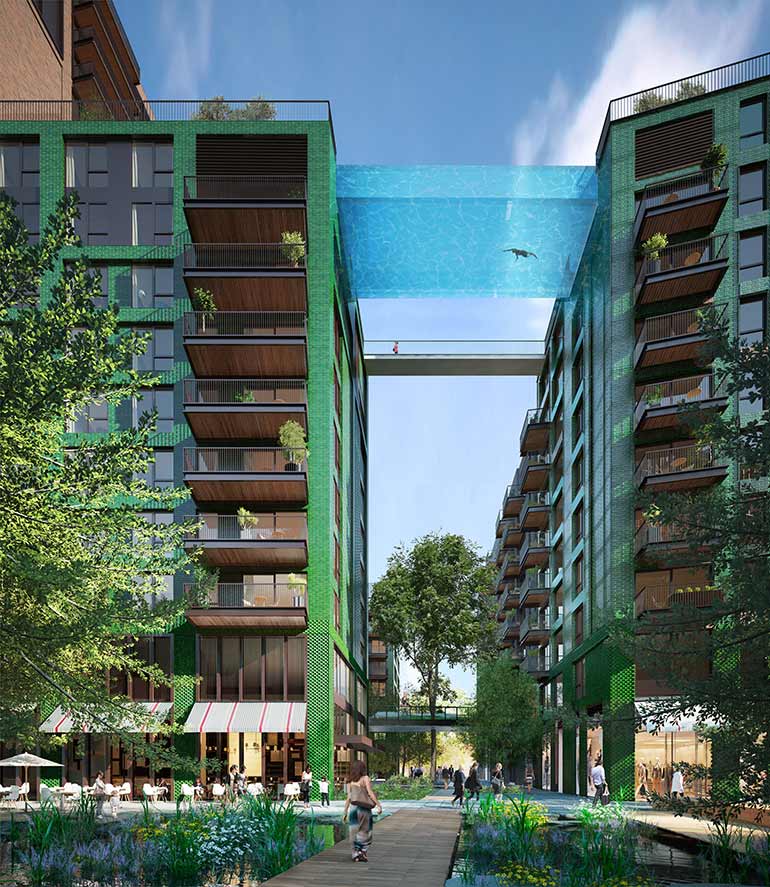 The Robur chillers, supplied by UK distributor ESS, are mounted on factory-assembled skids, pre-wired and pre-piped, each of which has a 90kW output but requires just a 30A single phase power supply. The integrated controls automatically "cascade" the chiller modules and share the load evenly between each of them.
Speaking about the Robur chillers ESS MD Kevin Pacey said: "The direct digital controls ensure shared workload and, in the event of a mechanical failure or service downtime, less than 7% of output is lost."
Robur gas chillers and heat pumps use natural refrigerant in a factory sealed circuit and are not subject to the F-gas regulation.