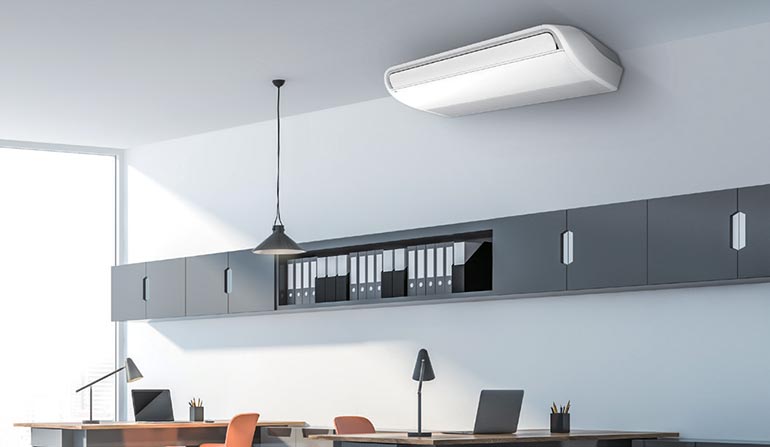 UK: Fujitsu has expanded its range of R32 air conditioners with new ceiling-mounted and wall-mounted splits for the EU market.
There are eight new ceiling mounted units covering cooling capacities of 5.2 to 13.4kW in both economic and standard ranges. The standard range offers longer pipe lengths and a wider operating envelope to an ambient of -15ºC cooling.
Fujitsu describes the new units as more versatile than predecessors with a width reduction of up to 270mm, a 30% saving in weight and a 10% noise reduction.
Connectable to Fujitsu's range of wired, infrared, wi-fi and BMS control options, it can introduce fresh air directly into the unit, through a purpose made adaptation to the chassis. Designed to dilute potential contaminants within the room, the unit can control a secondary fresh air supply fan or damper in tandem with the air conditioning system.
Designer wall-mount
Available in both pearl white and dark grey/silver metallic variations, the new Designer Series wall-mounted split system consists of four models and spans a cooling capacity of 2 to 4.2kW. With a woven textured front panel, this design has being specifically designed for the European market.
Certified energy ratings of A++ cooling and A+ heating are said to be achieved by an increased diameter cross flow fan and a lambda-type heat exchanger, combining both standard and reduced pipe diameters to maintain optimal heat exchange throughout.
Compatible with wifi interfaces, this Designer model benefits from a frost protection heating mode that can maintain a room temperature as low as 10ºC. This added feature makes an ideal application into holiday homes or commercial premises where energy-efficient frost protection is required.