Products
High seasonal efficiency chillers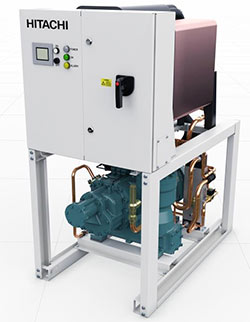 Hitachi Air Conditioning Europe SAS has introduced a new range of Samurai high seasonal efficiency water-cooled chillers.
The Samurai RCME-WH series consists of four basic modules: 140kW, 180kW, 220kW and 260kW. Combining these modules up to a maximum of eight, it is possible to achieve a chiller combination of up to 2,080kW.
Employing Hitachi screw compressors optimised for R134a and part-load performance, the units are said to achieve seasonal efficiencies of up to 6.80.
Utilising true dual-type plate heat exchangers, twin electronic expansion valves and cyclonic oil separators, the chillers also require a refrigerant charge up to 60% less than similar capacity chillers.
The modular concept Samurai RCME-WH Series offers operators continuous operational security as well as redundancy, future expansion and layout advantages over conventional systems, plus – being narrower than the previous version – access for refurbishment projects is that much easier.
Two operating modes (standard and high efficiency) are offered, along with internal power demand limitation and two pump operating modes all configurable from the colour LCD control panel. Continuous capacity control from around 3%-100% (dependant on module combinations) is possible and water outlet temperatures can be controlled to +/-0.5°C.