UK News
£30,000 support for Bradford College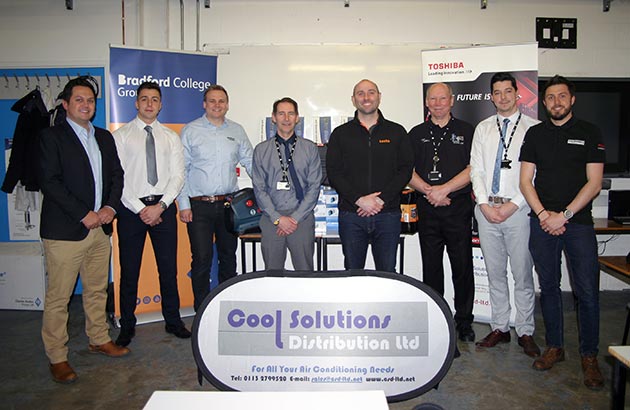 UK: Refrigeration air conditioning apprentices at Bradford College are now able to hone their skills with state-of-the-art equipment thanks to donations worth more than £30,000.
Four companies – Cool Solutions Distribution, Advanced Engineering, Testo and Blue Diamond Pumps – have donated a range of air conditioning units, condensate pumps, refrigerant recovery units, a digital vacuum gauge and Bluetooth manifold sets.
The equipment, which was supplied to the College's apprenticeship provider, City Training Services, is the very latest equipment, some of it is not yet released for general sale.
The college has a former student to thank for arranging the donation. Matthew Worsman, a Bradford College apprentice, is now technical manager at Leeds-based Toshiba air conditioning distributor Cool Solutions Distribution Ltd. Through his contacts within the supply chain, he was able to tie-up a deal to supply the College with the very latest in equipment.
"As an ex-student of the College, our technical manager, Matthew Worsman, saw an opportunity to give something back to the college through the network of manufacturers that we work hand in hand with and has managed to organise the equipment.
"All of the equipment that has been donated will be backed up with continuous training in the college from Cool Solutions Distribution and the supporting manufacturers. This will help to create the next generation of young engineers that can go out into the field confident and competent to work on the latest kit."
Toshiba will also be providing some additional training through Cool Solutions.
Luke Levens, sales manager at Advanced Engineering, which donated £8,000 of Bosch refrigerant recovery machines, said: "Our partners at the College have been doing some really great work training our next generation of air conditioning and refrigeration engineers, so it was very important to support their efforts in any way possible. And what better way than ensuring they have the right tools for the job from the outset? These brand-new units give learners a great opportunity to experience our industry's technology first-hand and that will enhance their prospects, as well as their employers' and our industry's too."
Advanced Engineering will also be providing free servicing and repairs on the units for the next three years.
A delighted Trevor Hoyle, the college's training and performance manager for construction, said: "We are the first college or training provider to have been given this equipment, before it is released to retail, ensuring that our students are not only industry ready but ahead of the game and trained on the very latest technologies."