UK News
A-Gas supports ewe-nique event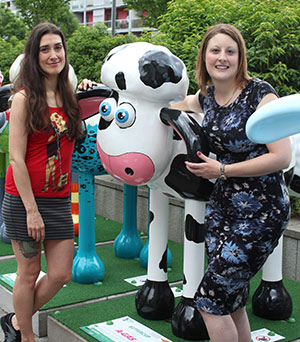 UK: Bristol-based refrigerant supplier A-Gas is involved in a ewe-nique charity arts event based on the Wallace and Gromit character, Shaun the Sheep.
Called Shaun in the City, the event features 120 five-foot tall Shaun the Sheep sculptures, set to graze green spaces and iconic locations in London and Bristol. Following the event the Sheep, created by artists, designers and celebrities, are auctioned to raise funds for The Grand Appeal and Wallace & Gromit's Children's Charity, supporting children in hospitals across the UK.
The London event finished at the end of May. Now a flock of 70 Shauns have been driven to Bristol where they will entertain the public until the end of August.
The A-Gas sculpture, Buttercup, has been designed by Bristol-based artist Vivi Cuevas. Buttercup can be spotted at Ashton Court, near the A-Gas head offices in Portbury.
A-Gas Group marketing executive Hayley Russell said: "The Grand Appeal is close to our hearts at A-Gas and we are delighted to be a part of Shaun in the City. Staff, family and friends are being asked to enter a competition to design their own Shaun the Sheep who I am sure many will remember from the film and television series. In addition, we have lots of fundraising activities planned to raise money for The Grand Appeal."