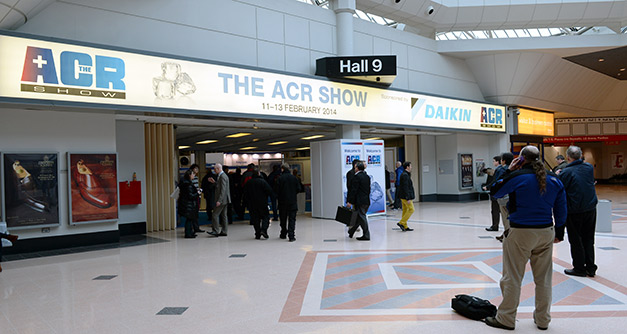 UK: The organiser of the ACR Show has announced that the 2016 event is to be expanded to include heating and ventilation products and technologies.
The organiser, Datateam, maintains that this is a natural integration, "with all five industry sectors already working closely together in today's market". It was also confirmed that the addition of h&v products will not lead to a change of name for the show.
Recognising that heat pumps is the fastest evolving area within hvacr, a statement from the organiser says: "Where once heating and cooling were regarded as entirely different sectors, the evolution of the heat pump is quickly drawing the two sectors closer. A crucial element in bringing efficiencies into air conditioning and refrigeration, inclusion of heat pumps at the ACR Show makes complete sense."
A Datateam spokesperson said the response from industry had been extremely positive: "It is an exciting time for both the acr and the commercial ventilation and heating sectors as there are needs that span both."
Visitors to the show can still expect to see the very latest innovations in air conditioning and refrigeration and be kept up to date with the latest legislation and trends. Experts will also be on hand to discuss CO2 and ammonia systems as well as the growing pool of other low GWP refrigerants.
The show, the only such event in the UK for air conditioning and refrigeration, returns to the NEC, Birmingham in 2016, from 16-18 February. Stand sales for 2016 are said to be 15% ahead of the same stage before the 2014 event.
The Institute of Refrigeration has pledged its support for the event, with its event manager, Lisa Waters commenting: "We are pleased to be supporting the ACR Show in 2016. The exhibition will offer fantastic networking opportunities that will bring together members of the IoR, Service Engineers Section and the Air Conditioning and Heat Pump Institute."
The 2016 event will again feature the extensive seminar programme in three separate seminar theatres. Toshiba Carrier has already agreed to sponsor the Training & Careers Theatre, with Toshiba general manager David Dunn commenting, "We believe training is vital to maintain and enhance professional standards across the industry and secure its future."
The ACR Show is also supported by FETA, the British Refrigeration Association, Heat Pump Association and Refcom Elite with additional partnerships to be announced in due course.
Companies booked so far include:
AFR Refrigeration
Broughton Electro Air Products
Business Edge Ltd
Charles Austen Pumps Ltd
City Lifting
CPS products NV
DJ Transport
First Choice Refrigeration Spares
Gram (UK)
Green Zone Surveys (UK)
Javac (UK )
JUMO Instruments
LF Spare Parts
Lloyd Coils Europe
Lordan (UK) Ltd
Maxkold
Oxford Hardware
Panimpex
Pole Star Products
Prihoda UK
Rapid Positioning Clips
Refcom
Scandia Refrigeration
Strongduct
Tenways Engineering Services
Testo
Thermofin
Vulkan Industries
Yellow Jacket