UK News
AES success is charities' gain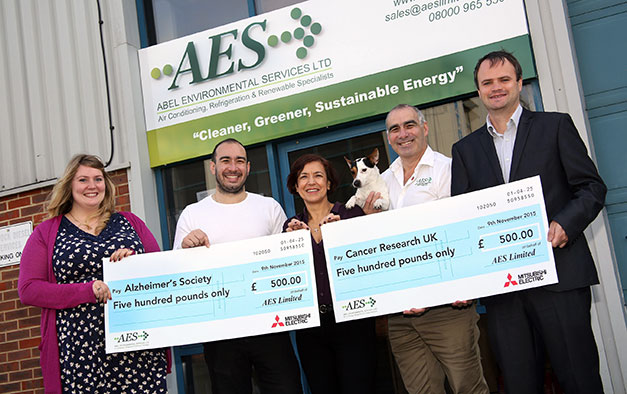 UK: Hampshire-based Abel Environmental Services (AES) has won £1,000 for charity by winning Mitsubishi Electric's Green Gateway Award.
Mitsubishi presents its annual Green Gateway Award in recognition of outstanding customer service and adopting a sustainable approach. In addition to a trophy for AES, the winning company makes a donation to a charity of choice.
AES received the special trophy at Mitsubishi Electrics recent Annual Conference. The cheque for £1,000 was split between the Alzheimers Society and Cancer Research. The two charities were presented with the cheques outside AES's offices in Romsey by founders Trevor and Amanda Bell and son Matt.
"We chose these two charities because of the support they have given to our family and we are delighted to have been able to use this award from Mitsubishi Electric to help," explained Trevor Bell.
Pictured above at the cheque presentations are (l to r) Natalie Bettison, the Alzheimer society, Matt Bell, Amanda Bell, Trevor Bell with Harvey and Stuart Amey from Cancer Research UK.