UK News
Airedale 1234ze chiller at John Lewis
UK: Airedale claims to have installed the first ever UK manufactured, BSI approved chiller incorporating the new low GWP HFO refrigerant R1234ze.
The installation at the new £15m John Lewis shop, which opened in York on April 10, is the first of its kind to roll off Airedale's Leeds production line.
Airedale's TurboChill TCC R1234ze, which incorporates the oil-less Danfoss Turbocor compressor, is being employed to help keep customers cool at the new 92,000ft2 department store. 1234ze chillers have previously been employed by the John Lewis group to provide refrigeration in its Waitrose supermarkets, the first in Bromley, Kent, in 2011.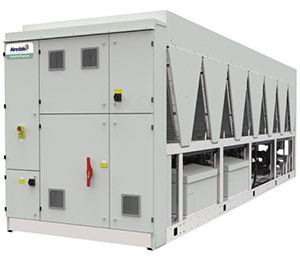 Said to be the most sustainable of the 41 John Lewis shops, the York store also features a range of sustainable design elements, such as energy-efficient cooling, low energy lighting and a 96.5kWp solar array on the roof to generate renewable energy.
By constant monitoring of temperature differences, Airedale's control software permits concurrent free cooling – a mixture of free cooling and mechanical cooling – switching on the mechanically-driven compressor only when extra cooling is required.
Airedale's R1234ze TurboChill free cooling (TCF) range (right) was released at the end of last year alongside a 1,600kW dual circuit R134a TurboChill. The TurboChill is said to offer twice as much free cooling as a thermosiphon free cooling system and can deliver free cooling for up to 95% of the year.