UK News
Airedale hosts Labour's business review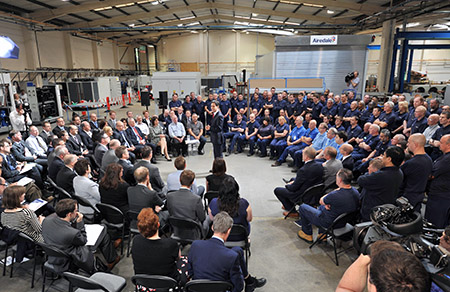 UK: Air conditioning company Airedale was again at the centre of media attention today as it played host to opposition leader Ed Miliband and his launch of Labour's new business review.
The event at the air conditioning manufacturers' temporary headquarters in Gelderd Lane, Leeds, was led by Ed Miliband and Lord Andrew Adonis, UK shadow infrastructure minister. Members of Airedale's workforce and senior representatives from some of Leeds' most prominent public and private sector organisations also attended, giving them the opportunity to raise questions with the Labour leader.
The report – 'Mending the Fractured Economy: Smarter State, Better Jobs' – was the result of a review commissioned by the Labour Party to understand the main barriers to growth for regional employers and is based on consultation events held in 10 UK cities including Birmingham, Bristol, Cambridge, Leeds, Manchester, Milton Keynes, London, Newcastle, Oxford and Sheffield. The findings of the initial review identified a number of issues believed to be holding back business growth including skills shortages, particularly for technical roles, and a lack of targeted city-region investment in transport and housing, in addition to other barriers such as access to finance, support for exporters and targeted support for R&D and innovation.
Airedale managing director, Clive Parkman, said: "We are delighted that Airedale was chosen to host today's event. As one of the region's largest manufacturers, we recognise that positive support from government and a strong relationship with local education providers are key to developing the necessary skills and knowledge that enable us to develop our people and so underpin our growth potential and future success.
"We welcome this review and hopefully the subsequent actions that will provide the right investment, appropriately targeted, to enable the training and development of people of all ages for the benefit of UK business.