UK News
Awards judges offer tips for entrants
UK: Prospective entrants for the National Air Conditioning and Refrigeration Awards have been offered advice on completing their entries.
The awards cover a broad range of categories and culminate in a glittering awards presentation night at Birmingham Town Hall on May 15.
With the closing date for the awards just a week away, the expert judging panel has offered help and advice in putting together a successful entry.
"Keep the entry clear – make sure the judges understand why your entry stands out from the rest," advises Graeme Fox president of AREA, and one of the most experienced judges. "Some judges will know the product/project/company but some will not so you need to make sure they can differentiate between you and the others.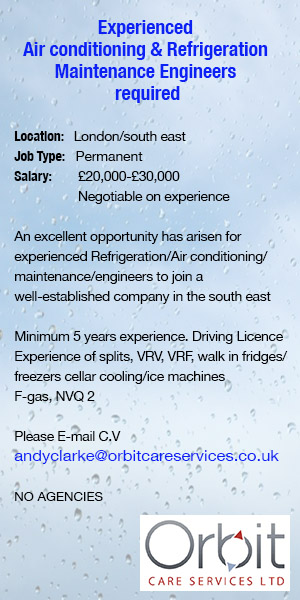 "If data exists, use it – that could be the difference between winning and being a runner up. If the data doesn't exist, don't make it up – many judges will see right through any waffle," he adds.
Fellow judge Judith Evans, director, Refrigeration Developments and Testing (RD&T) stresses that it is important to avoid marketing spin and stick to the facts.
"It is important to always to have some good validation of the technology/project and to see material that proves what the applicant claim," says Judith and adds that "a clear description of the technology/project and why it works or is a benefit gives credence."
Roger Hitchin, former technical director of BRE agrees. He stresses that entrants should "clearly state the benefits with evidence if possible". But Roger is also looking for entries that stand out and is special compared to other entries.
Closing date for the awards, which are sponsored Dean & Wood, UR Refrigeration Wholesale, Bitzer and Space Airconditioning, is March 3.
There are 12 award categories:
Best Retail Project
Best Commercial Project
Best End User
Top Contractor
Top Consultant or Specifiers
Air Conditioning Product of the Year
Refrigeration Product of the Year
Best Marketing Campaign
Environmental Champion
Best Training Provider
Wholesaler/Distributor of the Year
and the special Phil Creaney Award – The Power of One – presented in memory of the late editor of ACR Today magazine. This award will recognise the individual contribution made by a single individual, in promoting the UK air conditioning and refrigeration industry and will be the gift of the current editor of ACR Today, Will Hawkins.
Full details and entry forms are available on the website www.national-acr-awards.co.uk.