UK News
Catch the Grimsby Ice Factory on BBC iPlayer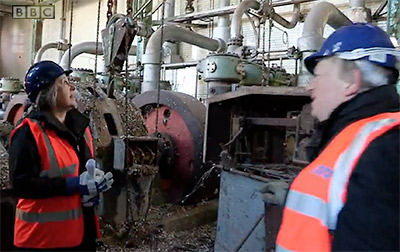 UK: Viewers in the UK have a chance to see again the BBC TV programme Restoring England's Heritage which features the Grimsby Ice Factory and its iconic refrigeration machinery.
First shown at the end of 2013, the programme is again available on the BBC's iPlayer for the next 20 days.
In the programme, presenter John Sergeant is shown around the derelict building by Vicky Hartung of the Great Grimsby Ice Factory Trust, the group fighting to save the building and the historic refrigeration machinery it contains.
Admitting amazement at the sight of the four huge 80-year-old J&E Hall compressors, John Sergeant is quite obviously impressed when Vicky Hartung points out that they stand as the most important pieces of refrigeration machinery in the world. She also informs him that they were amongst the largest compressors ever made by J&E Hall and the Grimsby Ice Factory is the only building of its kind with such machinery still in place.
A Grade ll* listed building, English Heritage is determined to preserve the machinery. Ben Robinson, a principal Heritage at Risk adviser to English Heritage, raises the question "Where else do you see machinery on this scale, buildings of this scale?"
Crucially, he adds: "It's no good saying our heritage is the aesthetically beautiful – the Downton Abbey type – our past was about much more than that."
Viewers in the UK can see the programme here.
Related stories:
Ice Factory denied lottery funding – May 27, 2014
UK: The Great Grimsby Ice Factory Trust (GGIFT) has been unsuccessful in its bid for £11m of Heritage Lottery funding. Read more…
Iconic refrigeration frozen in time
The Cooling Post has uncovered a huge amount of new information, photographs and drawings of  the historic Grimsby Ice Factory, enough to begin a new three-part feature on the history of the Grimsby Ice Factory and the unique refrigeration equipment it contains.
In Part 2 of our special feature on the Grimsby Ice Factory, the Cooling Post takes a more in-depth look at the 80-year-old refrigeration system still contained within this historic building.
In Part 2 of this series on the Grimsby Ice Factory we looked at the 1930s J&E Hall refrigeration installation which replaced the original steam-driven compressors. In this article we look at that original equipment and how it worked within the Ice Factory.