UK News
Coolair recognised for charity efforts
UK: Air conditioning contractor Coolair Equipment has received a special award for its contributions to a cancer charity.
Having raised £90,000 from a year-long campaign for Challenge Cancer UK, the charity presented Coolair with its first-ever Outstanding Contribution Award. The money raised, which included the proceeds of a sponsored a 300-mile cycle ride through South East Asia, was the biggest donation the charity had received from any business.
Regional director Neil Gibbard, who organised the campaign, received the glass star trophy from Challenge Cancer UK founder Mark Roberts on behalf of the company. He was also made a corporate ambassador for the charity.
Coolair teamed up with Mitsubishi Electric to recruit and lead a team of 18 staff and customers on an epic six-day bike ride from Saigon in Vietnam to Angkor Wat in Cambodia.
Other events included a ball at Aston Wood Golf Club in Sutton Coldfield and a sporting dinner at Moxhull Hall Hotel, also in Sutton, in the company of former England footballer Paul Merson.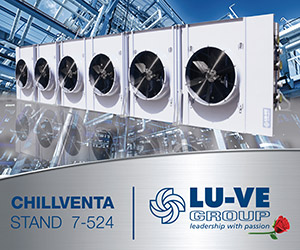 Coolair staff chose Challenge Cancer UK as the adopted charity for their 35th anniversary year after they were moved to learn that it distributes its funds to cancer charities throughout the journey of cancer from awareness and prevention to research and respite.
Managing director John Otterson said: "I was very proud of our staff who in only 12 months achieved this amazing sum which was way beyond our expectations."
Mark Roberts commented: "Neil and his team at Coolair, along with their staff and customers, have been fantastic throughout our year of association and the huge amount of money they raised will go a long way to making a real difference to the lives of others."
Photo, top: Coolair's Neil Gibbard (centre, right) receives the Outstanding Contribution Award from Challenge Cancer UK founder Mark Roberts in the company of Coolair management (l to r)  Scott Lightfoot, John Otterson, Helen Sharratt, Steve Valentine and Paul Evans