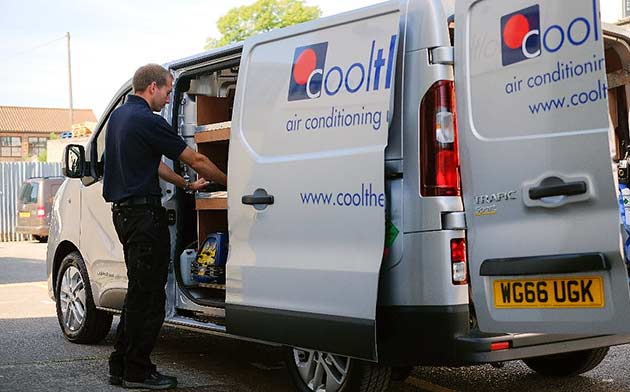 UK: Bristol-based chiller and air conditioning supplier and installer CoolTherm has been acquired by the Carver Group.
Headquartered in Aldridge, West Midlands, the Carver Group is a family-owned business with a portfolio of manufacturing businesses, including air diffusion technology business Biddle, air curtain specialist Thermoscreens and Canadian packaged terminal air conditioner manufacturer Applied Comfort. The group also has a consultancy company Cubist which guides grocery retailers on how best to improve energy efficiency and the quality of air comfort in their buildings.
Carver says the deal represents a further step in its plans to continue to grow and invest in businesses in the HVAC sector in Europe and North America.
Founded in 1992 by Ken Strong and Peter Kent, CoolTherm and its Italian chiller supplier Geoclima pioneered the application of Turbomiser magnetic oil-free compressor technology.
Ken Strong retired in 2016 and long standing CoolTherm directors Alex Strong and Rob Young, Rob Strong and Dave Blackmore purchased the business, forming parent company CoolTherm (Group) Ltd.
The company currently employing more than 60 people and achieved a turnover of £11.6m in 2017.
"The CoolTherm ethos is an excellent fit for the Carver Group, being privately owned and focused on delivering exceptional customer service, and we are pleased that the majority of directors will be continuing with the business," commented Carver Group CEO Aidan Killeen.
"We see the business as remaining a separate organisation from our current manufacturing businesses, but believe that after five years of rapid growth for the group, it will offer us the opportunity to grow in other directions, both nationally and internationally and will form a key part of our new five-year plan for expansion," he added.
CoolTherm works with Italian manufacturer Geoclima Srl to provide water chiller packages for both new and existing installations. The chillers are built to order to meet the precise requirements of each application. They are also diamond quality level installers for Mitsubishi Electric and a D1+ premium partner for Daikin systems.
In addition to its UK headquarters, the group has representation in 50 countries and offices in Germany, France, the Netherlands, and Canada.