UK News
Degree student Acs has double edge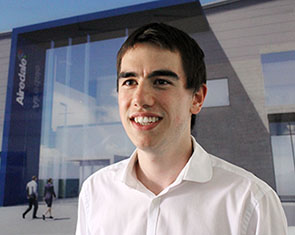 UK: Jamie Acs has become the first apprentice at Leeds-based company Airedale to achieve a degree in refrigeration and air conditioning engineering.
While Airedale recruits around four or five apprentices a year, Jamie is the first to achieve a degree and the only student in his year at Grimsby Institute to gain first class BSc honours.
Adrian Trevelyan, Airedale's UK service manager  said: "When he embarked on his training programme we deliberately did not set an end goal, instead giving Jamie the option to progress as far as he wanted. Achieving the accolade of the first Airedale employee to receive a BSc (Hons) in Refrigeration & Air Conditioning Engineering has surpassed our expectations."
Service technical support engineer Jamie is one of four Airedale students currently at the Grimsby Institute of Further & Higher Education on a day release basis. He is an integral member of Airedale's 55-strong service and spares division whose technical support staff and field service engineers provide 24/7 coverage to data centre, industrial, retail and public sector customers nationwide. Like his colleagues, Jamie is expected to hold advanced technical knowledge in order to provide the highest levels of support to customers and site engineers.
Having specialised in mathematics and the sciences at school, Jamie joined Airedale in 2008 because he was attracted to a career in engineering and the opportunity to earn a full-time salary while working towards a degree. His apprenticeship has seen him grow both his technical understanding and commercial skills to take on extra responsibility for key accounts and project-managing Airedale's bespoke controls upgrades. 
Airedale's HR director, Steve Joyce said. "Our apprenticeship scheme works exceedingly well, with all but one of our recruits having stayed within the business, some moving from technical into commercial and managerial roles. I think this success is due to the fact that trainees have a very clear career path which allows them to work their way through the business and are given the support they need to achieve the right balance between working and learning." 
Fellow apprentice Danny Carter who works in Airedale's test centre is another example of the scheme's success, having won Engineering Advanced Modern Apprentice of the Year with Leeds City College in 2011.  Airedale recruits around four to five apprentices a year via the Leeds College of Building. There are currently twelve apprentices within the business including eight in production and four in service.  
In addition to external training with local education providers, apprentices also benefit from training in both cooling technologies as well as practical skills such as brazing and electrics at Airedale's dedicated CITB-ConstructionSkills approved training facility in Leeds.