UK News
Eaton-Williams recognised by Dell
UK: Eaton-Williams' expertise in energy-saving, free-cooling technologies have been recognised by digital giant Dell.
The Kent-based company was presented with a Data Centre Consulting Services Partner Award at the Dell Data Centre Technical Summit held in Kuala Lumpur in February.
The award was received following a two-year relationship with Dell working alongside the company's Data Centre Consulting Services team, to promote free cooling technology in China. Eaton-Williams and Dell have successfully implemented free cooling solutions as part of a pilot in offering free cooling solutions for data centres to maximise energy savings.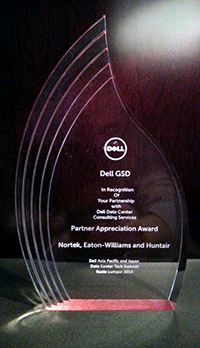 At the summit, Kris Holla of Eaton-Williams' affiliate CES Group delivered a presentation on free cooling technologies deployed in data centres. Mark Luxford, general manager of Eaton-Williams' brand of ServerCool also presented a selection of free cooling case studies showcasing the benefits of reduced energy, built in redundancy, lower emissions and reduced PUEs.