UK News
F-gas is high on Toshiba's agenda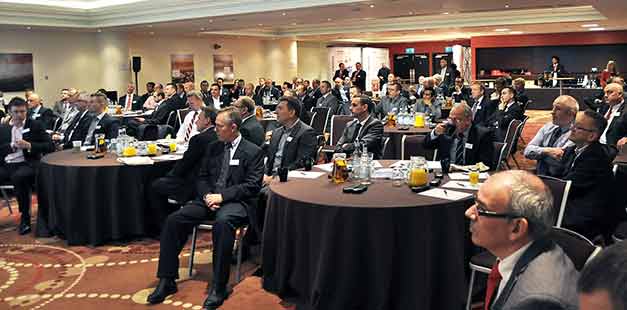 UK: The latest F-gas changes and their implications were high on the agenda at Toshiba UK's recent annual conference. 
The event at Twickenham Stadium, home of England Rugby, provided the invited audience of end users and contractors with an insight into Toshiba's current and future plans for developing its air conditioning range and related technical and commercial support services. It also invited feedback on how the company could improve its offering in the future.
In a key presentation, Toshiba briefed delegates on the latest F-gas changes and what they mean for installers and end users. There was a detailed review of the refrigerant options facing the industry as the forthcoming phase-down of high global warming refrigerants begins to bite.
The positives and negatives of new and alternative refrigerants were highlighted as potential replacements for out-going high GWP HFC refrigerants. There were also discussions on how  to achieve optimum energy efficiency and environmental performance.
David Dunn, Toshiba general manager, was guarded on future plans: "Toshiba have not yet made a final decision on which route to adopt," he said. "However, it was important to get customer feedback on our preferred solution for the short and long term strategy.
"The aim in sharing our thinking at this stage is to keep people updated on the issues that need to be considered, and obtain feedback from our customers on their major concerns."
There were also sessions on the company's plans to develop its award-winning refrigerant protection and leak prevention system, the implications of the ECO Design Directive, expanding air conditioning training, and Toshiba's latest BIM initiative.
The conference concluded with a gala dinner in Twickenham's VIP suite overlooking the pitch, with sporting legends from the world of Rugby joining as invited guests. Will Carling, former England Rugby captain, led the celebrity line-up, which also included rugby legends Scott Quinnell, Phil Vickery, Matt Dawson, Zin zan Brooke, and Neil Back.