UK News
Foster team runs and rides to Gamko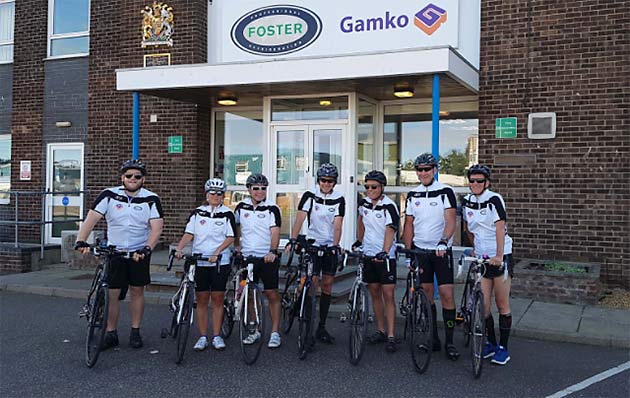 UK: Seven Foster Refrigerator employees have raised around £1,100 in an epic 127 mile charity cycle and run to the Netherlands.
The 127 mile duathlon – a 54 mile cycle ride and a 23 mile run – to Foster's sister company in Etten-Leur, near Breda, was completed in 15 hours.
The team left King's Lynn, running and riding the 75 miles to Harwich Port, where they caught the overnight ferry to Holland and then finished the 52 miles by bike to Gamko.  The seven members, Gemma Morley, Paddy Thompson, Kevin Piggott, Dave Ward, Jason Stone, Steve Mickleburgh and Pete Waterman represented a cross section of departments at Foster and battled the warm weather, severe traffic and a puncture to reach their destination.
The money raised was donated to King's Lynn's Queen Elizabeth Hospital.
"As a team, we wanted to raise money for the Breast Cancer Unit at our local hospital and designed the duathlon," explained manufacturing engineer Chris Faull, who organised the event.
"We've been training hard and competed in other events leading up to it to help us prepare.  We work really closely with Gamko, so it's great to be able to visit the team there – even if it is a slight unusual way to travel. We're sure the money will help the unit, and no doubt we'll come up with another crazy idea soon enough to raise even more."
Related stories:
"Tour de Foster" raises £5,000 – 28 August 2014
UK: While most were enjoying the August bank holiday, an intrepid team from Foster Refrigerator was completing a 350-mile charity cycle ride. Read more…