UK News
R22 phase out is great opportunity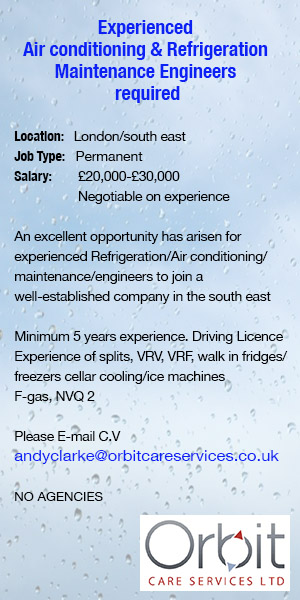 UK: The loss of R22 in Europe from the end of this year represents a substantial opportunity to upgrade customers to more efficient, reliable systems.
So says Ralph Alliston, group sales director of UK wholesaler HRP.
"Estimates of the number of systems still using R22 in the UK vary from 100,000 to 200,000, or even more, depending on who you listen to," he says.
"While much of any regulatory requirement is seen as a necessary chore, the final ban on any use of the refrigerant represents a useful short-term opportunity for contractors."
Ralph Alliston admits to being mystified as to how the gap is this wide, particularly with the amount of publicity the phase-out of R22 has received over the last few years. However, it is thought that during the recent difficult financial period businesses have been avoiding any "unnecessary" expenditure.
"Now, as confidence returns there are upwards of 100,000 businesses urgently needing to talk to a contractor," he says.
After the end of 2014, it will be pretty much impossible for systems using R22 to be maintained.  The choices are apparently simple, a drop-in replacement gas, system modification or replacement. However the choice cannot be made without expert advice, which Ralph Alliston sees as a good driver for the opportunity.
"Bearing in mind that an R22 system must be at least ten years old, selling a replacement system or a serious upgrade is a distinct possibility. The industry can now offer much greater energy efficiency, improved performance and greater reliability.
"Replacing 100,000 systems is a substantial opportunity – upwards of £200m – with a compelling deadline. For the reluctant customer, there's a discussion to be had about replacement refrigerants and required modifications."