UK News
Radermacher is J&E Hall Gold Medal winner
UK: This year's J&E Hall Gold Medal for outstanding practical contribution to the air conditioning and refrigeration industry has gone to Dr Reinhard Radermacher of the University of Maryland.
The £5,000 award, supported by J&E Hall International for the last 37 years, was presented to Dr Radermacher at last week's annual Institute of Refrigeration dinner in London.
Co-founder of the Centre for Environmental Energy Engineering at the University of Maryland, Dr Radermacher has been pushing the research frontiers by exploring new technologies and developing them for real life applications, and is a world authority on energy efficiency and environmentally sustainable thermal systems research. The simulation packages developed under his direction are used by more than 60 organisations worldwide and have helped to enable researchers, policy makers and designers to analyse life cycle estimate of natural and low GWP refrigerants.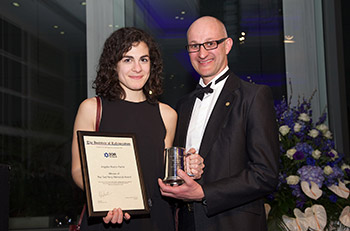 Angeles Rivero-Pacho, a student at the University of Warwick, was this year's winner of the Institute of Refrigeration's Ted Perry award. This annual award for student research, recognised the work of Angeles Rivero-Pacho in the project to model, design, construct and test a carbon-ammonia adsorption heat pump. With significant improvements being made to heat transfer rates, the research was described by one of the judges as "a practical research project with a high potential for commercial exploitation."
She received a cheque for £500 from Hawco, an engraved tankard and a set of ASHRAE databooks.
Ian Sullivan of Sullivan Air Conditioning was the winner of the Service Engineers Section Lifetime Achievement Award after clocking up 43 years in the industry. Starting as an apprentice with Indair in 1971, today he runs his own business as a self-employed service engineer, sub-contracting to several different companies, and carrying out trouble shooting on air conditioning systems or water chiller be that single splits, VRF or central plant.
Ian was presented with a cash prize and commemorative tankard donated by the ACR Trainee of the Year award, for outstanding service to the industry.
The Lightfoot Award for the best evening paper, voted for by IoR members, went to Tom Davies, Robin Campbell and Varun Thangamani for their presentation A novel low energy defrost process for the frozen food chain.  A cash prize of £500 and medal was donated by Lightfoot Defence.