UK News
Service boost for Waterloo customers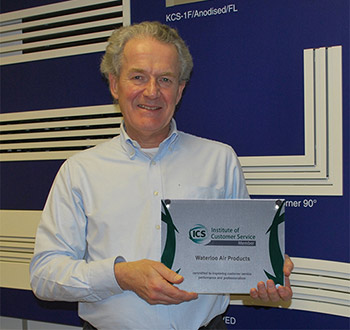 UK: Waterloo Air Products claims to be the the first UK manufacturer of air distribution products to join the Institute of Customer Service.
Dealing with a wide variety of customers from the public and private sectors, Waterloo says it recognises high levels of customer service as being essential to its business.
The Institute of Customer Service helps companies to improve their business performance as well as the way in which they interface with customers and address their expectations. It offers a variety of tools that includes professional qualifications, training, research, benchmarking and personal development programmes, that can deliver tangible benefits
"Customer service has always underpinned our operations," commented Ron Edmondson, managing director of Waterloo. "The company is a strong advocate of continuously improving standards and the way we interact with our customers not just at corporate level but individually as well," he added.
"Everybody in the company has a role to play. We recognise that there are strong links between customer satisfaction and employee satisfaction. By investing in further training through the Institute of Customer Service our employees will be empowered to deliver higher levels of their own customer service," adds Ron.
As members of the institute Waterloo will use the Institutes' benchmarking and accreditation scheme to help ensure that its staff benefit from training and development using the latest tools to support continuous development and improvement.
Waterloo is already initiating surveys internally and externally to gauge employee's individual views on the business as well as customers' perceptions. The data gathered will provide valuable information that will help Waterloo strengthen its relationships with its stakeholders.
"Waterloo continually strives to deliver company-wide excellence in customer service. Becoming a member of the Institute was a natural progression for Waterloo that will build on our own internal processes, measure our performance and help to set new standards," says Rachel Roots, Waterloo's business development manager.