UK News
Star women promote engineering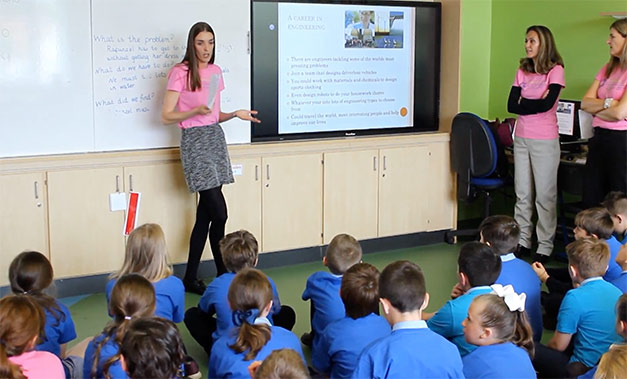 UK: To celebrate Women in Engineering Day, female engineers from Glasgow's Star Refrigeration visited a local school to encourage children to consider a career in engineering.
An event at St Thomas' Primary School in Neilston, yesterday, celebrated female engineers and gave an insight into the daily work life, for over 50 youngsters aged 9-11 to understand what a career in engineering entails.
In light of a nationwide push to encourage girls into STEM subjects and plug the skills gap in engineering, headmaster of St Thomas' School, Brendan Docherty, said: "I am keen to be involved in initiatives that support the development of our children as we are aiming to drive forward STEM across the school."
The presentation saw three of Star's female engineers share their stories about how they entered the industry from different paths and different kind of roles they have. The children were each given an official T-shirt issued by the Women in Engineering Society to commemorate International Women in Engineering Day on June 23.
Children at the event heard some of the reasons why they should choose a career in engineering. Star Refrigeration design engineer Claire Syme described how engineers tackle some of the world's most pressing problems. "You could help fight climate change by designing environmentally friendly engineering solutions to improve our lives. You could join a team that designs driverless vehicles. You could work with materials and chemicals to design sports clothing, and even design robots to do your housework chores. Engineering and technology is found in practically every industry. Whatever you're into, there are lots of engineering opportunities to choose from," Syme said.
Currently, only 9% of the UK engineering workforce is female according to research by The Institution of Engineering and Technology. There are still cultural and societal barriers preventing women from entering the engineering industry. There are misconceptions about what being an engineer actually involves, and the ability required to undertake an engineering degree. A lack of knowledge about the different types of engineering careers can make girls think it is too difficult or not creative and attractive enough to pursue.
Ann Flanagan, one of Star's consultant engineers said, "We hope to change perceptions amongst children, especially girls, by showing them how diverse and creative engineering jobs can be and that's why we brought to life stories of working female engineers. Most youngsters are unaware of the crucial role refrigeration plays in our everyday lives. Food and beverages production, the data centres necessary for social media and the internet, medicines production to cure illnesses and leisure activities including ice skating and curling, all require some form of mechanical cooling."
"The kids are now more interested in the diversity of options in the engineering industry and hopefully inspired by our individual stories," she added.
For more information about International Women in Engineering Day and to get involved, visit http://www.inwed.org.uk/