UK News
STEM subjects "too difficult"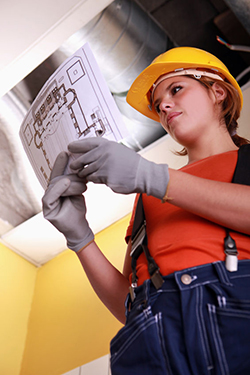 UK: A majority of schoolgirls in the UK and Ireland believe that science, technology, engineering and mathematics (STEM) subjects are too difficult to learn.
A survey by management consultancy Accenture of more than 4,000 girls, young women, parents and teachers, demonstrates reveals a perception that STEM subjects and careers are better suited to male personalities, hobbies and brains. According to the survey 51% of teachers and 43% of the parents surveyed believe this perception helps explain the low uptake of STEM subjects by girls.
In addition, 60% of 12-year-old girls said they believed the STEM subjects were too hard to learn  and 47% of the young girls surveyed said they believe such subjects are a better match for boys.
The research also suggests that parents and teachers must do more to encourage girls in the early stages of development to embrace STEM subjects if government and business initiatives to increase the number of women in STEM careers are to succeed.
Although girls ranked parents and teachers as their biggest influencers when making a decision about subject choice, 51% of parents said they feel ill-informed on the benefits of STEM subjects specifically, and only 14% said they understood the different career opportunities that exist for their daughters.
A non-gender-specific report earlier this year by the Association of Accounting Technicians found that only 52% of parents believe that apprenticeships are able to offer the same opportunities, professional and financial as traditional academic routes. In addition, 22% of parents say they would discourage – or are unsure whether they would encourage – their children from doing an apprenticeship. In that report, 30% cited low pay as the main reason.
"It's worrying that girls' interest in STEM subjects tails off so early in their time at secondary school. With such a small percentage of parents understanding what these subjects can offer their daughters, it is not surprising that girls become disconnected from STEM," said Emma McGuigan, managing director for Accenture Technology in the UK & Ireland.
"Our research suggests that while getting girls enthused about subjects like technology or engineering must start at home, encouragement needs to continue in early education, such as nursery and primary school, so that girls don't conclude at a young age that math and science are too difficult."
Additionally, while emerging sectors like technology are starting to bridge the gender gap — with groups and initiatives like TechFuture Girls, Stemettes, The Science Museum, techUK and Girls in Tech encouraging women to embrace the digital era – 77% of girls still believe that the science and technology sector lacks high-profile female role models.
Related stories:
Apprentices better off than graduates – March 9, 2015
UK: Ill-informed parental guidance and poor careers advice could mean many young people missing out on the fulfilling and lucrative career an apprenticeship could provide. Read more…
Industry group calls for doubling of engineers – January 12, 2015
UK: The lead industry group EngineeringUK has called for a doubling of engineering apprentices and graduates to meet UK employer demands. Read more…