UK News
Toshiba offers leak isolation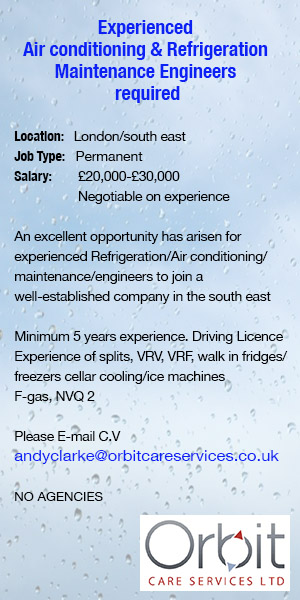 UK: Toshiba has introduced a system which will automatically isolate a specific section of air conditioning pipework in the event of a leak.
This UK initiative is seen as a major advance to its award-winning refrigerant leak detection and management system.
Conventional approaches shut down the entire system in the event of a leak, impacting occupants throughout a building until the source of the leak can be identified and repaired. The new technology means that only the immediate area served by the compromised circuit suffers loss of service. The rest of the system continues to function as normal.
"This technology is a major step forward and extremely useful for applications such as hotels and multi-tenanted buildings," commented Toshiba's general manager David Dunn.
"It means that, in the unlikely event of a leak, those areas unaffected can continue to function as normal and receive cooling and heating as required. The benefits are obvious, from both a commercial and customer service point of view."
Toshiba's new refrigerant detection and isolation technology uses a number of separate isolation cells throughout a building, consisting of an RBC-RD3 refrigerant concentration sensor, a pair of motorised isolation valves, and an RBC-RD7 control box.
The motorised valves are fitted in refrigerant pipework (liquid and gas) outside each conditioned space, the room sensor is located within the space at low level, and the control box is mounted next to the indoor unit.
If the sensor detects refrigerant in the room, it triggers an alarm and an L30 fault code on the indoor unit, detected in turn by a central controller or BMS, and initiating the isolation sequence. The motorised valves close automatically, effectively isolating the conditioned space from the rest of the system.
At the same time, on-site maintenance staff and service contractors are notified of the alarm status and its location, and can zero-in on the problem to resolve it.
The technology is primarily designed for use with Toshiba VRF systems (SMMS, SMMSi, SHRM, SHRMi, Mini SMMS), but can also be used with split systems. It can be specified on new installations or retrofitted on Toshiba equipment on existing sites.
Alongside the introduction of the new system, Toshiba has developed an improved version of the RBC-RD3 in-room refrigerant concentration sensor. The new unit has a recessed design to protect it from accidental damage, and can be fitted into a standard, single electrical back box.