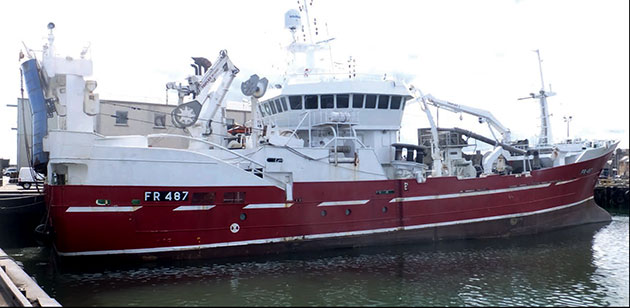 UK: Initial investigations have blamed failed evaporator tubes on a refrigeration plant for the asphyxiation of a crewman in Fraserburgh in August this year.
William Ironside, 52, died of refrigerant asphyxiation while cleaning a refrigerated salt water tank on the 56m UK-registered trawler Sunbeam. Four other men who ran to his aid were taken to hospital.
The Marine Accident Investigation Branch (MAIB) has now issued a safety bulletin detailing the background of the incident, initial findings, safety lessons and recommendation.
Mr Ironside, a second engineer, was found lying unconscious in one of the vessel's nine refrigerated salt water (RSW) tanks, used for storing its catch. Three of the vessel's crew entered the tank and tried to resuscitate him but they soon became dizzy, confused and short of breath.
The MAIB's initial investigation identified that the refrigeration plant sea water evaporators had suffered several tube failures resulting in a number of repairs. It is thought likely that the refrigerant leaked through one or more failed tubes into the seawater system, and was released into the RSW tank.
It is thought that Ironside had been sweeping the residual seawater that had settled at the aft end of the tank forward in to the tank's bilge well. No safety procedures for entering or working in RSW tanks had been completed before he entered the tank.
Tests following the accident showed that the level of oxygen at the bottom was less than 6% (normal level should be 20.9%). Further tests of both the tank atmosphere and residual water samples showed the presence of R22, the refrigerant gas used in the RSW tank's refrigeration plant.
Like many refrigerants, R22 is heavier than air so it will displace oxygen at the bottom of an enclosed space, such as an RSW tank.
The MAIB warns that being enclosed spaces by design with no ventilation, RSW tanks can become dangerously hazardous to life if the atmosphere becomes oxygen deficient due to the effects of corrosion, or toxic through the decomposition of sludge or fish, or, as in this case, the accidental release of gas.
MAIB advises that it is the responsibility of vessel owners/operators to ensure that suitable measures are taken to safeguard the crew. All work activities should be subject to risk assessment and safe systems of work should be put in place, it says. Procedures for entering and working
in hazardous spaces should be robust and understood. Similarly, rescue plans need to be put in place and fully understood and should be practised.
Widely recognised safety controls for working in enclosed spaces include: atmosphere testing, provision of positive ventilation, safety sentry at entry point, availability of breathing apparatus for rescue team, safety harness and means of recovering an unconscious person.
A full report will be published when the investigation is complete.