UK: Trials of a prototype high temperature heat pump using the low GWP HFO refrigerant R1233zd has secured £406,000 of UK government funding. 
London-based start-up Futraheat has partnered with manufacturing integration specialists Projective, and Sussex-based Hepworth Brewery, to secure £406,000 in Phase 3 funding from the BEIS Industrial Energy Efficiency Accelerator (IEEA) competition to install and trial their heat pump prototype at the brewery. The IEEA is funded through the Net Zero Innovation Portfolio, and is managed by the Carbon Trust with support from Jacobs and Innovate UK KTN.
The Greensteam heat pump is said to be able to help industrial users recycle heat and radically reduce fuel use by up to 90%. It uses a new type of patented turbo compressor, known as TurboClaw, which recovers low grade waste heat – a by-product of many industrial processes – and boosts it up to 150°C, where it can be successfully reused onsite.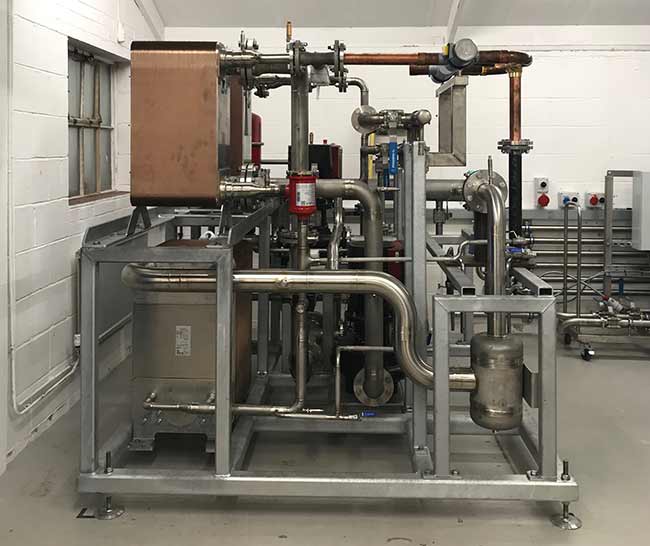 The brewery currently uses a standard oil boiler for its process heat. Replacing it with Futraheat's high temperature heat pump is expected to reduce energy consumption by up to 90%, provide fuel cost savings of up to 40% and reduce carbon emissions by up to 100% when the heat pump is powered by renewable energy.
Futraheat's current prototype is to be modified to produce low-pressure steam for use at Hepworth Brewery. The 300kW high temperature heat pump will have a temperature input of 100°C and raise this to deliver 130°C for the brewery's existing wort boiling process.
"This project will enable Futraheat to validate its pioneering technology through testing in an operational, real-world setting," explained Futraheat MD Tom Taylor." This is the next step as Futraheat begins to develop its first commercial product, the Greensteam heat pump, which is due to go to market in 2024."
The high temperature heat pump demonstrator was originally designed and developed by Futraheat and Projective under Innovate UK's Industrial Strategy Challenge Fund (ISCF) awarded in 2021.
Related stories:
Honeywell backs high temperature heat pump using R1233zd – 5 October 2021
BELGIUM/UK: Honeywell has announced a collaboration with a UK company developing a high temperature heat pump using the low GWP HFO refrigerant R1233zd. Read more…