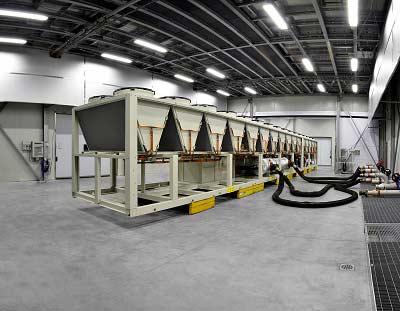 ITALY: Italian company Aermec has invested €5m in what it claims is Europe's largest air conditioning test chamber.
The new chamber at the company's main plant in Bevilacqua, Verona, can test units up to 2000kW. At 28m long and 6m high it boasts a total volume of 2200m³ .
Eurovent certified, the test lab's 240 sensors 100 temperature and pressure transducers can guarantee an accuracy of +/-0.2°C of the water side and +/-0.3°C of the air side.
Tests can be carried out according to EN 14511 standards with ambient temperatures from -20°C to +55°C and a relative humidity of 20% to 95%. Units can be tested at 50Hz and 60Hz, as well as noise tests, again with Eurovent certification in accordance with UNI EN ISO 9614.
The laboratory can be transformed into two smaller units to perform simultaneous independent testing and every effort has been made to reduce energy consumption by employing a heat recovery system.
Particular attention was also paid to enable customer witness-testing, something increasingly demanded on larger projects. A separate customer room has been created where all parameters can be monitored and recorded, the unit controlled and changes checked.