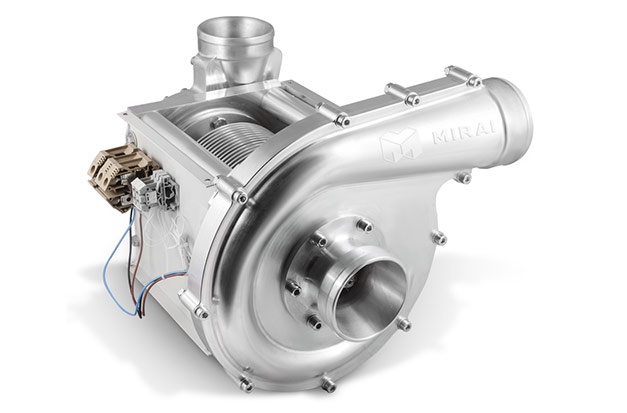 SWITZERLAND: A Swiss engineering company is to introduce an air cycle refrigeration system for the low temperature storage of food, biomaterials and pharmaceuticals.
Mirai Intex will introduce the technology for the first time at the forthcoming Chillventa exhibition in Nuremberg. 
The Mirai Cold air cycle machine is said to solve the problems of refrigeration supply in the temperature range of -40ºС to –80°С and lower. The developers say the technology will make it possible to provide effective refrigeration supply in such fields as storing biological materials in biobanks, as well storing premium quality food products.
Air cycle technology is not new, being used on board ships over a hundred years ago. It is still used today in aircraft air conditioning systems.
The technology has a number of benefits and recent advances in high-speed compressor design and materials have made the air cycle machine one of the potential rivals to established vapour compression technology.
In particular, using air as the working fluid eliminates the environmental worries, toxicity concerns and costs associated with traditional refrigerants. It also operates at low pressure (not more than 0.1MPa), and does not include pressure vessels or high-pressure loops.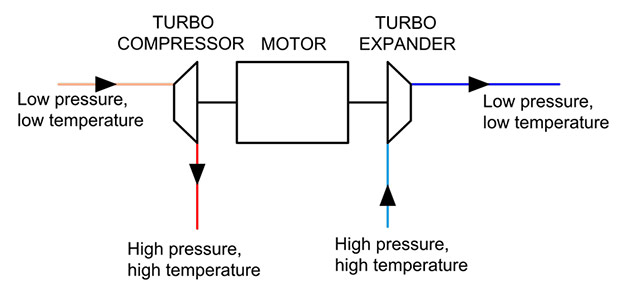 In the air cycle machine, the air is heated up with compression and is cooled down in the process of expansion. According to Mirai Intex, this enables the temperature to be regulated with high precision at the outlet and to reach ultra low temperatures for the processes of freezing or storing.
A key feature of the technology is said to be the location of the turbo expander on the same shaft as the turbo compressor. The energy produced in the process of air expansion, is fed through the shaft to the compressor, which significantly reduces the energy consumption of the drive motor. This feature makes it possible to cut energy consumption by 30% in comparison with standard systems, says Mirai Intex.
The air cycle technology is also being applied to air conditioning with its Mirai Climate.
In this system the recuperation of heat of the exhaust air is included in the refrigeration cycle. Used in this way, consumption of electricity in cooling operating conditions becomes comparable to ordinary air conditioning and in the heating operating conditions, when the installation works in as a heat pump, it exceeds the energy efficiency performance of the latter. According to the manufacturer, such a procedure stops the exhaust air from coming back and provides a constant supply of fresh air regardless of the operational conditions of the microclimate system.
As part of its activities at Chillventa, the company will provide a special presentation of the technology on its stand (9-531) on Wednesday, October 12, from 16.00 to 16.20.