GERMANY: While still committed to the use of CO2, Daimler has announced that it will now be using the refrigerant R1234yf in the interim to comply with EU regulations.
Daimler had previously refused to use the new low GWP refrigerant R1234yf in its Mercedes car air conditioning systems due to concerns over its flammability. Its decision challenged the EU's MAC directive which banned the use of R134a and stipulated that all new marques of cars must use a refrigerant with a GWP below 150.
With Germany facing censure for failing to implement the MAC directive, Daimler says it will now use R1234yf but supported by what it describes as a comprehensive package of safety measures to guarantee Mercedes-Benz' high safety standards. This includes the inclusion of a gas generator to release inert argon gas at the relevant hot spots in the event of a collision.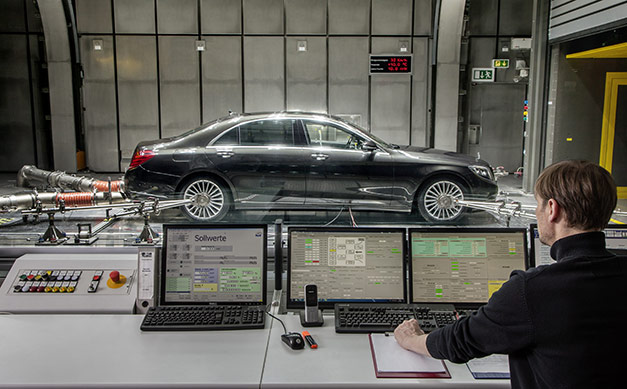 However, its sees R1234yf as an interim solution. From 2017, Mercedes-Benz says it will become the first manufacturer to offer production passenger cars equipped with CO2 air conditioning systems in its S- and E-Class cars in Europe. The use of CO2 air conditioning systems will then be gradually rolled out across the range.
The use of CO2 as a refrigerant necessitates the redesign of crucial components. CO2 air conditioning systems operate at a pressure of more than 100 bar – some ten times higher than that of today's systems. This means that all components including the hoses and seals need to be redesigned. Mercedes-Benz has drafted corresponding standards together with all German automobile manufacturers and numerous suppliers in the automotive standards committee of the German Association of the Automotive Industry (VDA). The publicly accessible DIN specification documents also offer other companies an opportunity to quickly launch development activities of their own, says Daimler.
As deployment of CO2 systems throughout the entire vehicle fleet will not be feasible by the effective date of the new EU directive on 1 January 2017, the company will be using R1234yf.
"Apart from CO2, R1234yf is the only refrigerant produced on an industrial scale to date with which the future requirements of the EU directive for air conditioning systems in new vehicles can be met," the company says in a statement.
To meet is own safety standards, the car manufacturer says it has developed a protective system tailored to the given vehicle configuration. In the event of a severe frontal collision, the patent-pending system is designed to ensure that the resultant refrigerant/air mixture is separated from the hot engine components in the engine compartment and that these components are effectively cooled. This is made possible by a gas generator, which releases inert argon gas at the relevant hot spots and keeps the mixture from bursting into flames.
Related stories:
EC rejects petition to ban R1234yf – December 14, 2014
BELGIUM: A petition calling for a ban on the use of "dangerous substance" R1234yf in vehicle air conditioning systems has been rejected by the European parliament. Read more…
EC backs safety of R1234yf – March 7, 2014
BRUSSELS: The European Commission has concluded that the refrigerant R1234yf poses no serious risk in MAC systems. Read more…