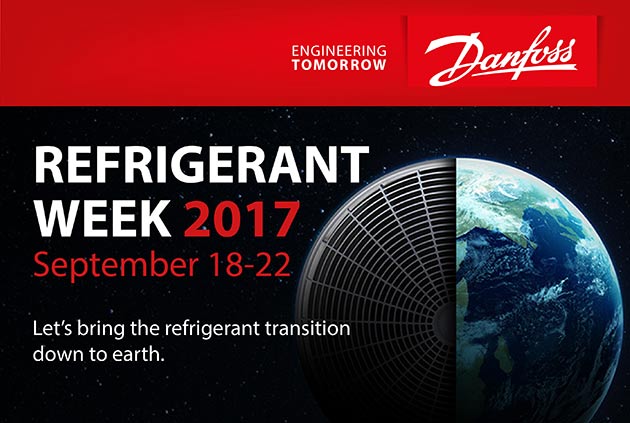 DENMARK: Danfoss is to present a week of training and events to help engineers and decision makers adapt to the ever-changing refrigerant landscape.
Faced with refrigerant phase-downs, price increases and possible shortages, Danfoss' Refrigerant Week is designed to help industry to adapt to new lower GWP, and sometimes flammable, alternatives.
In a week of events from Monday, September 18 to Friday, September 22, 2017, Danfoss turns its attention to the impact new worldwide agreements have on OEMs and installers and how it can help bridge the gap between directives and installations.
As a respected manufacturer, Danfoss maintains it has both the in-house expertise, product qualifications and testing facilities to provide reliable, efficient, and sustainable refrigerant solutions for a diverse set of applications, including air conditioning and food chain. The company points out that its experts have already begun working side-by-side with clients at specialised application design centres to support and facilitate the transition to new and better refrigerants.
The week's activities will be grouped into two categories – CoolSchool and CoolTools.
CoolSchool is designed to increase refrigerant knowledge and uncover solutions to help participants adapt to the so-called fourth generation refrigerant transition. The event will include videos, infographics, articles and webinars.
The second event, CoolTools, will focus on a number of Danfoss tools designed to make the fourth refrigerant transition smooth and easy. These solutions are designed to simplify the selection of the right refrigerant for any situation, find a compatible component, and ensure that refrigerants are installed correctly in the cooling system.
Registration for the various webinars can be made from August 25 at refrigerants.danfoss.com