USA: Danfoss has achieved a hat-trick of wins in this year's AHR Expo Innovation Awards with success for its compressor, heat exchanger and controls technologies.
A new high efficiency micro channel heat exchanger has been named as Cooling category winner,  the Turbocor TG490 compressor as the Green Building winner and Danfoss' CO2 Adaptive Liquid Management Solution as the top Refrigeration product. 
The AHR Expo Innovation Awards are awarded annually in advance of the AHR Expo, which is this time being held at the Orange County Convention Center in Orlando, from February 3-5. The winners in the 10 industry categories are selected by a panel of third-party ASHRAE member judges who evaluate award entries based on their innovative design, creativity, application, value and potential market impact.
"Winning three awards this year is a testament to our investments and we look forward to working with our industry partners to deploy these solutions in the HVACR market," said John Galyen, Danfoss North America president.
Winner in the Cooling category, the new Danfoss Interlaced Micro Channel Heat Exchanger (iMCHE), is said to integrate multiple circuits into a single coil. It works using a shared air heat transfer area and controlling each one independently by a multi-circuits system. 
The iMCHE uses a whole air side heat transfer when operating under partial load conditions to maximise efficiency. According to Danfoss, the results of a recent case study showed an IEER increase of 18% when using the iMCHE solution.
"Our iMCHE Interlaced Microchannel Heat Exchanger is the newest addition in the already expansive Danfoss MCHE portfolio and supports our efforts to provide quality MCHE for condenser, evaporator, heat pump, radiator and reheat applications," said Danfoss' Jeff Tucker.
"The iMCHE was developed specifically for two-circuit refrigerant systems and targets the global roof top product as well as an array of two-circuit designs."
Using iMCHE would enable system developers to improve overall system efficiency by more than 20%, he claimed.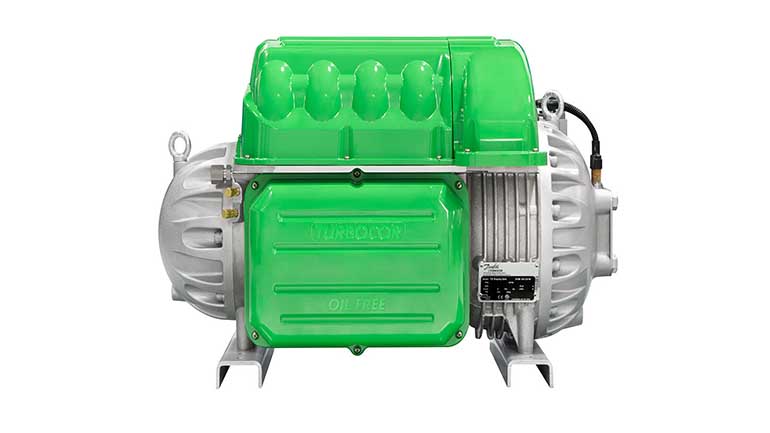 The multi-award-winning Turbocor technology triumphed again in the Green Building category with the TG490 compressor for air- and water-cooled chiller applications. The oil-free, variable-speed, magnetic bearing centrifugal compressor is optimized for use with R1234ze and can also be used with low-GWP refrigerant R515B.
This is said to be the first oil-free compressor to adopt R515B. A blend of R1234ze(E) and small amounts of R227ea, R515B is classified as a non-flammable (A1) alternative, despite the very low GWP of around 300.
The CO2 Adaptive Liquid Management Solution (CALM), which triumphed in the Refrigeration category, combines Danfoss' liquid ejector and adaptive liquid control case controller algorithm to fully utilise the evaporator surface in display cases and cold rooms. This technology is said to provide up to 10% greater energy efficiency without equipment change. 
Other winners included LG's Hydro Kit, the indoor heat exchanger for LG VRF systems, which took the Plumbing category award.
An overall winner will be chosen from the ten category winners and receive the 2020 Product of the Year Award during the AHR Expo.