World News
Emerson to build $40m innovation centre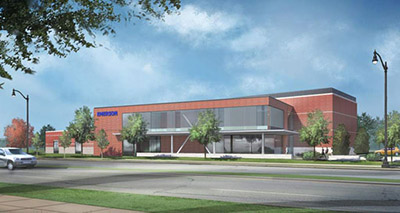 USA: Emerson Climate Technologies is to build and support an hvacr r&d and innovation centre at the University of Dayton, Ohio.
The centre on nearly five acres of University-owned land will cost up to $40m, of which approximately $20m is construction costs.
Emerson's proposed 40,000ft2 facility, which includes classrooms, will employ 30 to 50 people when fully operational. Construction is scheduled to begin in October and is expected to be completed in late 2015 with a formal opening in spring 2016.
A partnership between Emerson and the University, the centre will form a unique research and training hub where Emerson experts, hvacr industry leaders and University faculty and students can come together to focus on hvacr technology and best practices. It is hoped that the centre will foster an ambitious, collaborative approach to innovation, research and training with a focus on technologies that address hvacr industry challenges, such as increasing energy efficiency, promoting sustainability and improving system connectivity.
Focus
The centre's activities will focus on residential and commercial air conditioning, food retail, food service and network/data centres. The facility will feature prototype installations of actual applications, such as a domestic heating and cooling system and a supermarket refrigeration system, to enable experimentation with concepts, technologies and scenarios before trying them in actual customer installations.
"This facility fills a real and critical need for the HVACR industry today," said Ed Purvis, executive vice president of Emerson Climate Technologies.
"Nowhere else will you find a similar facility where academic researchers and industry participants can come together under one roof to dialogue and develop and test technology solutions through various real-world applications. The goal is to create the world's premier hvacr research and development facility where creativity and open-mindedness are encouraged."
Once completed, the Emerson Climate Technologies Innovation Centre will be the innovation hub for a global network of product engineering, development and testing facilities that Emerson Climate Technologies currently operates in the US, Canada, China, Germany and the UK.