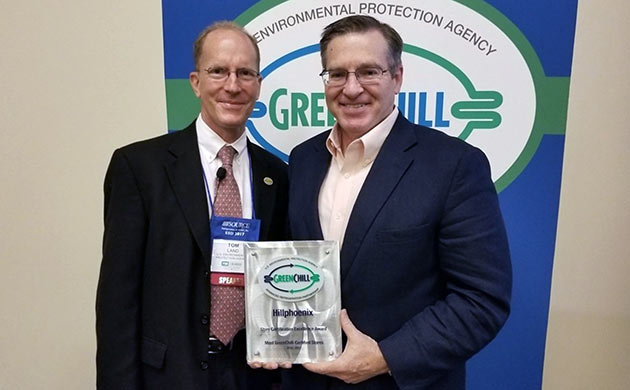 USA: Refrigeration manufacturer Hillphoenix has achieved the 2016-17 Store Certification Excellence award from the US EPA's GreenChill programme – its seventh such award.
The Store Certification Excellence award recognises the manufacturer of commercial systems that has installed more advanced refrigeration systems in GreenChill-certified stores than any other partnering manufacturer in the past year.
Hillphoenix systems were installed in 77% of the GreenChill certified stores over the past year.
"We appreciate the distinction that the EPA's GreenChill programme has bestowed on us as an organisation," said Scott Martin, director of business development and industry relations. "Hillphoenix continues to be committed to advancing sustainable technologies and collaborate with customers on the best practices."
Martin accepted the award for the company at the FMI Energy & Store Development Conference in Orlando, Florida.
"Hillphoenix deserves recognition for developing such a variety of innovative refrigeration systems that are responding to supermarket's desire to be environmentally and economically sustainable," said Tom Land, manager of EPA's GreenChill programme.
EPA's GreenChill Partnership works with supermarkets to reduce refrigerant emissions and decrease their impact on the ozone layer and climate change. The partnership helps supermarkets move to environmentally friendlier refrigerants; reduce harmful refrigerant emissions; and adopt greener refrigeration technologies and best practices. About 11,000 GreenChill Partner stores operate in the US.